TOURISM: COHN RESTAURANT TO ALSO BE PART OF EMERGING SCENE
Luxury Hotel Will Bring Change to Imperial Beach
Monday, April 15, 2013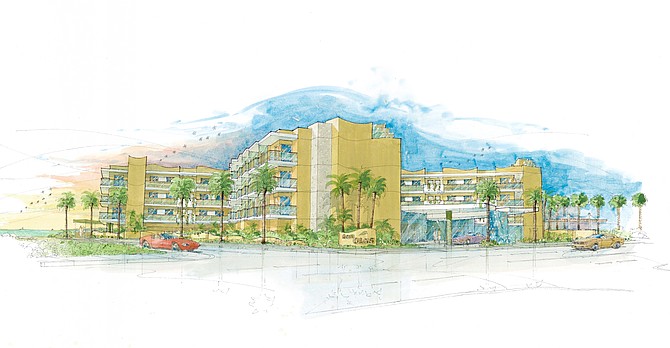 San Diego developer Pacifica Cos. is nearing completion on a $34 million boutique luxury hotel in Imperial Beach, called Pier South, that local planners are also hoping serves as a big economic catalyst for the city and South County.
Allison Rolfe, Pacifica's director of planning, said a late June opening is tentatively planned for the 78-room waterfront hotel, being built on the site of what was once Seacoast Inn. The new four-story hotel will include a 113-space underground parking lot, a rooftop patio, pool, meeting and event rooms, fitness room and an on-site restaurant operated by locally based Cohn Restaurant Group.
"Seacoast Inn was a linear building that had sort of a fortress structure," said Rolfe. "This hotel has two curved and intersecting wings, where all of the rooms have views of the ocean."
Located off Seacoast Drive, Pier South will be operated by Pacifica's hospitality management division, Pacifica Host Hotels, under a licensing agreement with Marriott International Inc.'s Autograph Collection luxury brand.
Developers and regional economic development leaders view the new hotel not only as a replacement for the low-frills, 38-room Seacoast Inn, a fixture at the site for more than 50 years before it was razed in 2010, but a chance to bring wider economic benefits to Imperial Beach and the surrounding South County region.
"It's definitely going to be a good thing to show visitors what's happening in this part of the county,'' said Cindy Gompper-Graves, president and CEO of the South County Economic Development Council. "Having a nice waterfront hotel with a Cohn restaurant is also going to boost the perception of what's available to do in Imperial Beach."
Promoting Attractions
Arriving hotel guests and prospective visitors will have access to new materials being distributed and posted online by the development council, touting in-city activities like biking and surfing, and regional attractions such as Sleep Train Amphitheater, Living Coast Discovery Center (formerly Chula Vista Nature Center), and the upcoming Aquatica San Diego, formerly Knott's Soak City.
The development council has already booked its annual public officials gathering, which draws around 400 from around San Diego County, for September at the new hotel. Gompper-Graves said Pier South's group and event amenities should help spur return visits to Imperial Beach and South County in the long run.
"From a tourism standpoint, you want a hotel to attract business people, because if they like what they see they'll come back with their families for vacations," she said, adding business visitors might also consider setting up companies or office locations in the region.
The new restaurant at Pier South, which has not yet been named, will be the 16th for San Diego-based Cohn Restaurant Group and its first in Imperial Beach. President David Cohn said the new operation, spearheaded by longtime restaurateur Ken Irvine, will likely feature seafood and other Baja and Mediterranean-style items, with a décor in line with the hotel's upscale beachside theme.
"This will be our first restaurant in South County, and we've definitely been looking to go into some of this county's underserved areas, not just the over-served areas," said Cohn, noting the company's recent debuts in places such as Oceanside and Escondido.
Greg Wade, Imperial Beach's assistant city manager, said officials are anticipating more openings by businesses attracted to the newly revived beach area. For instance, he noted that locally based Filippi's Pizza Grotto recently opened a new location about two blocks from the new hotel and has been well received.
Jump-Starting Redevelopment
"We know that Cohn has an excellent reputation for developing destination restaurants, and we're also very excited about this investment by Pacifica," Wade said. "What's happening there now has been a long time in coming."
Rolfe said the hotel project created about 300 construction-related jobs, and Pier South is expected to employ approximately 55 permanent workers when it is up and running.
"We definitely see this as a potential catalyst for that area," Rolfe said. "The original plan a few years ago was just to do a renovation of Seacoast Inn, but the city approached us about a potentially larger hotel project that might help jump-start redevelopment."
A city-initiated vision-plan study in 2000 concluded that redevelopment of Seacoast Inn would be the most significant "first step" in fostering a revival of the beachside neighborhood. Imperial Beach officials subsequently adopted a "Survival Plan" and made changes to city codes to allow more flexibility for hotel development.
An ecotourism study, commissioned by the city and the California Coastal Conservancy in 2005, also identified redevelopment of the Seacoast Inn as a primary development objective.