Cymer Acquisition Gets OK From Justice Department
Thursday, April 11, 2013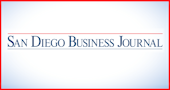 Cymer Inc., the Rancho Bernardo maker of lithography equipment used in the manufacture of semiconductors, obtained more official approvals on its pending sale to Netherlands-based ASML Holding NV, including a recent OK from the U.S. Department of Justice's antitrust division, the companies announced.
Clearances were also recently given by the U.S. Committee on Foreign Investment in the United States, and the antitrust agencies of the Taiwanese, German and Israeli governments.
Cymer shareholders signed off on the deal that calls for ASML to pay $2.55 billion in cash and stock for a company that generated about $539 million in revenue last year.
Completion of the sale that was announced in October remains subject to additional customer closing conditions and receipt of approvals under competition laws in South Korea and Japan, the companies said.
In recent trading, shares of Cymer, traded on the Nasdaq exchange under CYMI, were just below $98, giving it a market capitalization of about $3 billion.
— Mike Allen