Northrop Grumman Receives $71M Contract Modification
Wednesday, April 10, 2013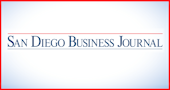 Northrop Grumman announced recently that it received a $71 million contract modification for services related to its Global Hawk aircraft.
The U.S. Air Force flies the unmanned, high-altitude plane.
The deal includes support for program management, engineering and flight operations necessary to complete the deliveries of Lot 10 aircraft and sensors. Lot 10 includes two Block 30 systems, two Block 40 systems, and three retrofits. Block 30 and Block 40 aircraft carry different sensor packages.
Work will be done through December 2014.
The Global Hawk Systems Program Office at Wright-Patterson Air Force Base in Dayton, Ohio, made the award.
Northrop Grumman, which is based in Virginia, runs the Global Hawk program through offices in Rancho Bernardo. The company builds the aircraft in Palmdale.
— SDBJ Staff Report