Ambrx to Receive $15M in Cancer Drug Development Deal
Tuesday, April 9, 2013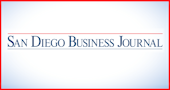 La Jolla-based drug maker Ambrx Inc. will receive $15 million upfront from Japanese pharmaceutical company Astellas Pharma Inc. in a cancer drug development deal.
Ambrx could receive up to $285 million in research, development and regulatory milestones, the company said in a release.
The treatment Ambrx is working on, called antibody drug conjugates, allow a targeted delivery of cancer drugs so they only treat certain tissues — potentially maximizing the efficacy of powerful, expensive medications.
Ambrx, a privately held company, employs 55 in the San Diego area. It has similar drug discovery collaborations underway with Bristol-Myers Squibb, Eli Lilly and Co. and several other companies, it said.
Notably, Astellas just last month terminated another cancer medication deal with a San Diego biotech.
In 2009, Ambit Biosciences Corp. partnered with Astellas to develop its lead drug candidate, a cancer drug called quizartinib. The drug was in clinical trials in patients with acute myeloid leukemia. Astellas paid an upfront fee of $40 million to collaborate on the drug development.
But despite presenting positive data from the outcomes of a Phase II trial, on March 12, the companies announced that the collaboration will end this September.
— SDBJ Staff Report