DINING: TOM HAM'S TO MAKE BETTER USE OF SCENIC LOCATION
Landmark Eatery Sets a Course for Change
Monday, April 8, 2013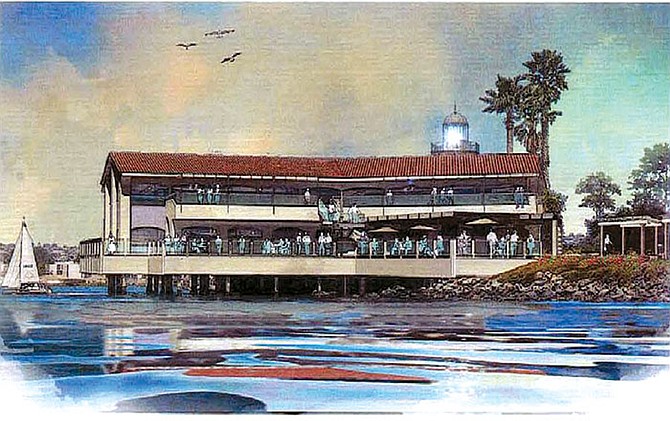 Locally based restaurant operator Shelter Island Inc. is in the midst of a $3.5 million makeover of its landmark Tom Ham's Lighthouse at Harbor Island, aiming to pay homage to its history while better capitalizing on its waterfront location.
Company leaders say the new version, set to debut in May, will sport new indoor and outdoor lounge areas, as well as an exterior dining deck and an outdoor wedding pavilion favoring panoramic views of San Diego Bay.
The project's design team is led by noted local architect Graham Downes, who also oversaw an extensive renovation of the company's Bali Hai Restaurant at Shelter Island, completed in 2010.
"We wanted to include more lounge areas, where people could socialize and see the views without having to be inside the main dining room or sitting at the bar," said Susie Baumann, co-owner of both restaurants with her husband, Larry.
Tom Ham's Lighthouse was shut down for the renovation in early January. The restaurant was opened in 1971 by Susie Baumann's late father, Tom Ham, who incorporated his love of San Diego's maritime history into its décor.
The seafood-focused restaurant has a fully functioning U.S. Coast Guard lighthouse, designated as Beacon No. 9, which received a new energy efficient light in February. Baumann said an old Coast Guard fog bell, long a fixture in the parking lot, will be moved inside the renovated building, displayed with other artifacts in Tom Ham's collection, including model ship hulls and antique barometers.
Employs 200 at Peak Season
The privately held San Diego restaurant company employs a total of approximately 200 during peak seasons at its two restaurants, though it does not divulge annual sales. Baumann said about 40 percent of sales at the Lighthouse restaurant are from banquets and events like wedding receptions, and the new outdoor wedding area — to feature an aluminum arch made by artist Christopher Puzio — will likely be put to high use.
Tom Ham opened Bali Hai in 1955. Baumann said sales have steadily increased at the Polynesian-themed restaurant since its makeover, and both of the company's eateries have seen a post-recession bump in visitors.
Restaurants locally and nationally have generally seen sales rising over the past three years following the recession, though recovery in the midpriced family restaurant category has not been as strong as those seen in the upscale and lower-price categories.
According to a recent report by the local chapter of the California Restaurant Association, based on data from National University, the city of San Diego's 3,315 restaurants generated approximately $2.98 billion in taxable sales in 2012. That was up 3 percent from 2011, and up 16 percent from the recessionary low point of 2009.
In a recent national forecast and survey report, the National Restaurant Association projected that full-service U.S. restaurant sales will reach $208.1 billion in 2013, which would be a 2.9 percent rise from 2012.
Restaurant Renovation Trend
The trade group's national survey of restaurant owners found that 46 percent of fine-dining operators plan to devote more resources to remodelings and renovations in 2013 than they did last year. In the quick-service and fast-casual categories, 40 percent said they plan to invest more in on-site renovations.
As with the Bali Hai makeover, Baumann said the work at Tom Ham's Lighthouse is aimed at updating its menu and surroundings at a time of increasing competition in the local upscale dining market, while maintaining loyalty among longtime customers.
Local Support
Baumann said most of the patrons at the company's restaurants are locals, and the bulk of their out-of-town customers are those brought to the restaurants by local residents with whom they are staying during their visit. "That's really been our mainstay," Baumann said.
The family-owned business now has a third generation involved in operations. The Baumanns' grown sons — Grant, Tommy and Andy — will be boosting their management responsibilities at both properties after the Harbor Island restaurant reopens.
Baumann said the company took a risk in planning the Bali Hai renovation during the 2008-09 period when the economy was on its way down, but deemed that $3.5 million project crucial to the Shelter Island eatery's long-term competitive prospects. She said the same thinking applies at the Lighthouse.
"You can't stand back and be afraid," she said. "You need to be willing to make changes."