MEDICINE: AIM IS TO REGENERATE AFFECTED REGIONS OF THE BRAIN
Firm's Stem Cells Play Offense In Fight Against Parkinson's
Monday, April 8, 2013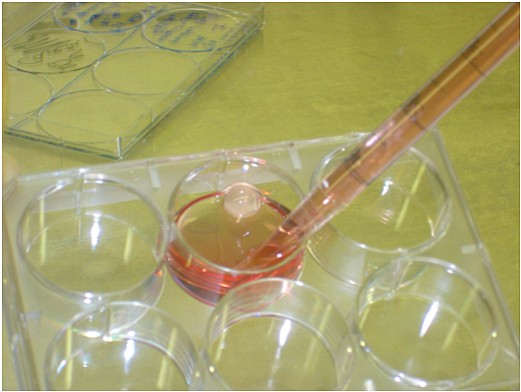 The Carlsbad-based International Stem Cell Corp. is making strides in developing a cure for Parkinson's disease, a devastating degenerative brain disorder most common in the elderly.
The ISCC recently reported positive results after grafting stem cells into the brains of monkeys who display Parkinsonism. This pilot study represents the first steps in bringing stem cell-based therapies to clinical trials, said one of the co-authors of the report on the study's results, Evan Snyder, director of the stem cells and regenerative biology program at Sanford Burnham Medical Research Institute in San Diego and an honorary scientific adviser for ISCC.
This could be an important and potentially high profile move, given that stem cell-based treatment of Parkinson's has received much attention due to the efforts of Michael J. Fox for more than a decade.
Parkinson's occurs when cells that generate dopamine, an important neurotransmitter, begin to die. The cause is still largely unknown, but Parkinson's patients slow down considerably and shake uncontrollably.
"Our mission is to regenerate the region of the brain damaged during Parkinson's using stem cell-based therapy, injecting cells directly into the brain," said Simon Craw, executive vice president of ISCC. "By replacing the dead neurons with fresh new ones, that would be living tissue that could produce dopamine, we could essentially cure the disease."
The company artificially induced Parkinson's disease in African green monkeys, by using chemicals to damage certain areas of the brain. The ISCC then planted a large dose of its stem cells in the monkeys' brains, and studied them to see if there were any behavioral modifications.
The researchers found no adverse side effects, and no development of tumors, which is a significant concern with such stem cell grafts as they could potentially grow unchecked wherever planted. And, further, the cells did adapt and function — and the monkeys showed signs of improvement.
Human Trials Is Next Big Step
Carrying these findings over to clinical trials is crucial for both patients and for the company, Craw said. And he said he expects it'll be in human studies by next year.
The ISCC was founded in 2006, with a corporate office in Carlsbad and a laboratory in Oceanside. It works with in vitro fertilization clinics to collect unfertilized eggs that women have donated to science, and uses proprietary technology to convert them into stem cells.
The publicly traded company employs 42 at its three locations, and has a market capitalization of $24.49 million. The company trades on the OTC market, with shares hovering between 25 cents and 30 cents.
"Our valuation is relatively low now because we have no human data, so a lot of investment funds say, 'we'll only look at you when you've conducted clinical trials,'" Craw said. "We're trying to bridge the gap and get to that stage."
Skin Care Line
In the meantime, the company has other side projects to bolster its long-term research endeavors. It posted revenue of $4.6 million in 2012, based on two of its more profitable business ventures. The ISCC grows and then sells a variety of human cells to other research companies in its Maryland plant. It also manufactures a line of stem cell derived skin care products, called Lifeline Skin Care. The high-end skin treatments can run $340 for two ounces. Its customers include spas at Marriott International Inc. and Four Seasons Hotels Inc. Lifeline is a separate but wholly owned subsidiary of the ISCC.
The company has two other research projects. ISCC stem cells have a low likelihood of being rejected by an individual, Snyder said. The company is using this stem cell line for a variety of projects that expand beyond Parkinson's.
For example, it studies stem cell treatments in a congenital liver disease that is similar to cirrhosis. It also is developing corneal tissue to treat people who are blind because of damage to their corneas.
The company is collaborating with a network of hospitals in India to develop ways to restore vision with these stem cell treatments. Craw said the ISCC won't even approach the American market with this product, because while there's need in the developing world, there isn't as much need in the U.S.
"We haven't gotten the product approved in India yet, and don't know how much it'll cost, but from a humanitarian concept — to use stem cells to restore a blind person's vision — it's just overpowering," Craw said.