FINANCE: GOLDSTONE NAMED CHAIR OF PRESTIGIOUS SECURITIES OVERSIGHT BOARD
Gold Standard
Monday, September 24, 2012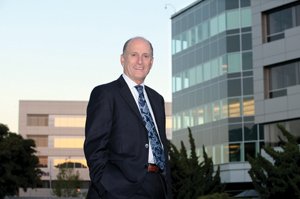 Municipal bankruptcy, an option that three California cities have taken this year, isn't in the cards for San Diego, or most other major cities in the state, says Jay Goldstone, the city's chief operating officer.
While some cities are clearly under great financial distress, filing for bankruptcy is an extreme reaction that doesn't cure the problems, Goldstone said.
"Anything is possible of course yet given the state of the economy in California, I'm just not seeing the kind of financial distress to make that a cost effective solution," he said.
Citing the city of Vallejo, which filed for Chapter 9 bankruptcy in 2008, Goldstone said the city spent tens of millions in the process, but "I'm not sure they got a fair return on those dollars."
So far this year, the cities of Stockton, San Bernardino and Mammoth Lakes took the same path.
'Some Tough Decisions'
Goldstone, 61, who joined the city as chief financial officer in 2006, looked back with some satisfaction as he winds down his tenure. He's leaving his job this year, along with outgoing Mayor Jerry Sanders in advance of a new mayoral team led by either Councilman Carl DeMaio or Rep. Bob Filner, who are vying for the position and will want to appoint their own No. 2 person.
"I feel very good about it," he said of his seven years at the city. "We had to make some tough decisions. The mere fact that we were able to weather the worst recession in our lifetime, and come out with a reserve balance (in the city's budget) that is five times greater than when we got into office … and that the city got back to the bond market and is now touted by the SEC (Securities and Exchange Commission) as a model for other cities, yes, that's a good thing."
Goldstone said after leaving his post, he will serve as the chairman of the Municipal Securities Rulemaking Board, a position he accepted recently. His one-year term begins in October.
The MSRB is the public agency that makes rules and policies covering the municipal bond industry, including securities firms, investment banks, and bond broker-dealers. The agencies that enforce those rules are the securities industry-backed Financial Industry Regulatory Authority (Finra), and the SEC.
Goldstone declined to reveal his salary at MSRB. He earns $309,000 annually in his current job.
Never Close to Bankruptcy
Responding to several reports, including one by Moody's Investors Service last month, that more California cities could be headed to bankruptcy, Goldstone said San Diego was never close to that situation even during a financial crisis that prevented it from issuing bonds.
"Even when we were blocked from the bond market (2004 to 2008), the city made every bond payment on time, made all our pension payments on time, and we were able to balance the budget," he said.
San Diego was unable to issue bonds because of an accounting scandal that erupted when the city failed to disclose the size of its pension obligations in securities documents.
The omissions first revealed in 2002 led to a series of investigations, filings of criminal and civil charges against employees of the city's pension fund and top city officials, downgrades to the city's credit rating, and the resignation of former Mayor Dick Murphy in 2005.
That led to a special election the following year in which Sanders edged out former Councilwoman Donna Frye. He was re-elected in 2008.
Sanders said Goldstone was a key member of the team he put in place to get the city back to fiscal stability.
"He helped get us through a pension scandal, then through the worst economic downturn any of us have ever experienced," Sanders said. "He's certainly one of the main reasons the city of San Diego is in much better financial shape today than it was just a couple of years ago."
Relying on Bank Loans
Shut out from borrowing money through the traditional muni bond market, San Diego was forced to borrow from banks. Goldstone said the price wasn't that much greater compared to what it would have paid had it issued bonds, ranging from 0.2 to 0.4 percent above the going rates.
The city still has some outstanding debt with the Bank of America, but it's relatively small, Goldstone said.
This year, the city refinanced 11 bond issues to take advantage of lower interest rates and the city's improved credit rating. The refinancings save the city about $13 million annually in debt service.
Goldstone says due to the heavy pension liabilities the city faced earlier in the decade, the city had to take some severe steps to get its financial situation back on track. Those moves included cutting more than 1,500 jobs, negotiating salary reductions on existing employees, and instituting a new retirement system that eliminates pensions for new employees.
"We made some tough cuts, but there was the political will in place to make those cuts," he said.
The key pension reform action, codified as a result of the passage of Proposition B in June, requires the city to implement a defined contribution program, similar to a 401(k) program, for new employees instead of pensions.
However, the city still faces enormous pension liabilities. It paid out $231 million for its annual payment to the pension fund last year, and will make a similar contribution this year.
Those annual payments are likely to remain high through 2025, Goldstone said.
"Yes, that's high, and it's still a problem, but we're taking steps to correct it."