MEDICINE: INDUSTRY LEADERS FACE CONTRADICTORY PRESSURES
Attorney General Eyes Health Systems
Monday, September 24, 2012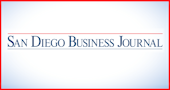 Scripps Health and Sharp HealthCare are among a group of health care organizations under scrutiny by the California attorney general's office as to whether growing consolidation among hospitals and doctor groups is pushing up the price of medical care.
Subpoenas, known as civil investigative demands, have been sent by the office of Attorney General Kamala D. Harris to several big hospital operators in the state. In addition to Scripps and Sharp, The Wall Street Journal reported subpoenas were sent to Santa Barbara-based Cottage Health System, San Francisco-based Dignity Health and Northern California's Sutter Health system. Subpoenas also were reportedly sent to major California health insurers.
According to people with knowledge of the matter, the probe is examining hospital systems' reimbursement from the insurers, The Wall Street Journal reported. The regulator appears to be focusing on whether the systems' tie-ups with physicians, as well as ownership of hospitals, have given them the market power to boost prices in a way that violates antitrust law, these people said.
Request Acknowledged
In prepared statements, Scripps Health and Sharp HealthCare acknowledged receiving subpoenas as well as requests for documents in connection with the attorney general's inquiry.
Scripps Health says it is cooperating with the request.
"The focus of the subpoena appears to be related to antitrust issues, however, we don't know any specifics of the inquiry," the Scripps Health statement says. "We understand other health systems throughout the state have been contacted as well."
Although the Hospital Association of San Diego and Imperial Counties declined to comment on the investigation as it is not a party to the matter, California Hospital Association President C. Duane Dauner issued a media statement addressing related issues surrounding the increasing integration of components of the health care delivery system.
Dauner says among the many goals of national health care reform is the creation of a more coordinated approach to care, where physicians, hospitals and other providers are able to deliver higher-quality care while also helping to lower costs.
Seeking Coordination
Dauner's statement continues by saying the Affordable Care Act includes numerous initiatives aimed at better care coordination and improved communications through the use of electronic health records and other technological advancements. The ACA also calls for new models of care delivery such as Accountable Care Organizations, medical homes and other arrangements that bring together hospitals, physicians and others to manage the health of the population.
Accountable Care Organizations, or ACOs, consist of coordinated health care providers who offer care to a group of patients. These health care organizations are characterized by a payment and care delivery model that seeks to tie provider reimbursements to quality metrics and reductions in the total cost of care for an assigned patient population. The ACO is accountable to the patients and the third-party payer for the quality, appropriateness and efficiency of the health care provided.
"These coordinated approaches to care delivery have the potential to fix many of the problems inherent in our fragmented system," Dauner said. "Systems of care can eliminate the need for duplicate tests, redundant paperwork and overlapping facilities or equipment."
Jody Root, health care partner at Procopio, Cory, Hargreaves and Savitch LLP, explained that health care providers are caught between the federal government's demands for collaboration and antitrust laws that deter a combination of entities from joining forces as that has an anti-competitive effect on the industry.
Collaboration Encouraged
Root said collaboration among physicians, hospitals and skilled nursing facilities is encouraged to ensure continuity of care for patients and to try to keep patients healthy. As an example, under health care reform, hospitals will no longer be reimbursed by Medicare when patients are readmitted within 30 days of discharge, which will cause doctors to reach out to clinics, skilled nursing facilities and patients to make sure they're taking their medications and following up with their primary care doctor.
And incentives are even offered to connect disparate groups on the same electronic systems as well as to pioneer ACOs. Health care entities chosen to operate a Shared Savings Accountable Care Organization for Medicare patients are eligible for waivers from federal antitrust regulatory agencies, Root said.
"This motivates providers in the industry to come together so there's continuity of care and there wouldn't be prosecution from the Justice Department and the FTC (Federal Trade Commission)," he said.
Tri-City Medical Center's North Coast Medical ACO is one of 106 health systems nationwide — and the only one in San Diego County — chosen to operate a Shared Savings Accountable Care Organization for Medicare patients. A release by Tri-City says the health care-delivery program is intended to streamline and improve care, reduce hospital readmissions and costs and hold health care providers accountable for the quality of care they provide.
The North Coast Medical ACO brings together 57 primary care physicians who currently care for more than 5,000 patients receiving Medicare, a federal health insurance plan for people 65 years and older and people of all ages with disabilities. In addition, North Coast Medical ACO will partner with 224 specialists and other allied health care providers. Members of the ACO will share in any savings reaped from cutting costs and meeting specific quality benchmarks. They will be rated on 33 core measures such as readmissions, length of stay, diabetes, smoking cessation, access to specialists and how well patients responded to their doctor.
Defining a Monopoly
Root said two main antitrust issues the state and federal regulators are concerned with are price fixing and creating a monopoly. He said federal guidelines are available to competing businesses that want to join together on a single price, adding that the entities need to be clinically integrated as ACOs are, or economically integrated, to be able to contract with a payer on a single price. Guidelines are also available on monopolies, which are usually a significant percentage of a defined market, in the neighborhood of 20 percent to 30 percent, he said. If a business has a wide geographic presence but others can still compete in the area it might not be considered a monopoly, he said.
"If you're too big in an area and that has a tendency to stop competition from coming in the area then they deem that anti-competitive," he said.
Consequences could range from economic penalties to canceling a transaction, such as breaking up a merger or affiliation, Root said.
In Dauner's media statement, he defended the role that hospital systems and their affiliated physician groups play in ensuring access to high-quality, coordinated care in the state. Many individual hospitals could not meet the state's expensive earthquake construction requirements without the financial strength of a larger system, he said. Similarly, hospital systems can provide each institution within the system with administrative and clinical services and support which an individual hospital cannot provide on its own.
"The ability for hospitals, physicians and other providers to work more closely together is essential," the media statement says. "Criticism of hospitals that are responding to the demands of federal and state laws is unwarranted. Those who manufacture such allegations fail to look at the demands being placed on hospitals or the expectations being created by federal and state laws."