FINANCE: JOBS ACT OPENS DOOR FOR OFFERING
Regulus' IPO Plans Draw Some Big Names
Monday, September 10, 2012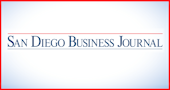 Is there safety in numbers?
There might be for future investors in Regulus Therapeutics Inc., the Torrey Pines-based biotech startup which recently filed the necessary paperwork with the SEC for a new stock offering.
With the registration, the company, which is developing new drugs using targeted microRNAs, has become one of the first to file for an IPO under the 5-month old Jumpstart Our Business Startups, or JOBS, Act.
The 5-year-old life science concern is seeking to raise $57.5 million on Wall Street.
The good news for future investors is that several of the company's drug development partners have agreed to purchase an additional $14 million in private placement shares based on the eventual successful offering price.
In the parlance of Wall Street, these companies are what are called "smart money."
Paris, France-based Sanofi says it plans to purchase $10 million in shares, while Isis Pharmaceuticals and development partner GlaxoSmithKline said they plan to purchase $2 million each from the shares that will be offered.
The promises amount nearly to a quarter of the shares to be offered, which provide a little bit of assurance for new investors.
In addition, pharmaceutical giant AstraZeneca says in the SEC filing that it will buy an additional $25 million in shares in a private placement equal to the initial public offering price.
David Schull, a spokesman for Regulus' PR firm, said the company would not comment on the filing.
The JOBS legislation enables a so-called "emerging company" to offer shares to the public while keeping financial details contained in its IPO documents private for longer periods and keeping its registration statement confidential until 21 days prior to its first road show.
One provision of the law allows companies to use "crowdsourcing" to raise funds, though, in the case of Regulus, the startup will go conventional with the offering managed by a group of investment banks, including Cowen & Co., Lazard Capital Markets, Needham & Co., Wedbush PacGrow Life Sciences and BMO.
Cambridge, Mass.-based Alnylam Pharmaceuticals Inc. and Carlsbad-based Isis Pharmaceuticals Inc. combined forces to launch the company in 2007. Its researchers are currently developing treatments for hardening of the arteries, hepatitis C virus infection and kidney fibrosis, as well as several cancers.
In its filing, the company said it is "focused on developing first-in-class drugs that target microRNAs to treat a broad range of diseases."
MicroRNA's Big Role
According to the filing, "microRNAs are recently discovered, naturally occurring ribonucleic acid, or RNA, molecules that play a critical role in regulating key biological pathways."
Sanofi pumped $10 million into the company in 2010 as an equity investment.
Since then, Regulus has signed a number of development deals with what it calls alliance partners. The deals are bringing in additional working capital as the company burns through cash preparing products for market.
Regulus said it could earn up to $1.7 billion in milestone payments with the successful commercialization of microRNA therapeutics for 11 programs now under way.
Also, Regulus said that it plans to "nominate at least two clinical development candidates within the next 12 months and file our first investigational new drug applications, or INDs, with the U.S. Food and Drug Administration, in 2014."
The company gave a picture of its current financial state. "We (Regulus) have incurred net losses in each year since our inception, including net losses of approximately $15.6 million and $7.6 million for the years ended 2010 and 2011 respectively, and approximately $4.8 million for the six months ended June 30, 2012," according to the filing. "As of June 30 … we had an accumulated deficit of approximately $47.9 million."
The company employs 56, according to the prospectus.
The amount of money sought in the offering compared to recent technology companies that have gone public, many of which have raised hundreds of millions to $1 billion and more.
But many professional investors have abandoned life science investing at the early stages because of the uncertainties of FDA approval, as well as the high costs and long timelines involved in the sector.
Regulus is an exception to the trend, which has negatively impacted funding for new life science companies in the San Diego region.
Leading the Way?
Nikhil Varaiya, a finance professor who directs the graduate programs at San Diego State University, said it's too soon to tell if the Regulus IPO will lead the way for investors in other life science companies to get their investments back more quickly than traditional IPOs with a JOBS filing, and thus serve to encourage more investments in early stage ventures.
Varaiya said that the Obama administration wanted to make it easier for companies to raise funds, thus setting the stage for growth in sales and profits, as well as new employees.
"Before the JOBS Act was passed, many companies were being left out of the IPO process because of greater scrutiny on the part of investors," he said. "Of course, the big question is if the companies disclose less because the rules are less onerous, are they going to be successful?" he said. "We don't know."