REAL ESTATE: LIMITED SPACE, COMPETITION FOR TALENT DRIVES RENOVATIONS
Changing the Scientific Properties
Monday, October 29, 2012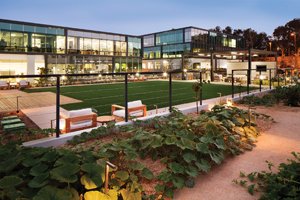 The task of equipping today's life-sciences corporate campus has moved well beyond installing the right number of lab centrifuges and test-tube racks.
Faced with growing demand from tenants looking to recruit the top intellectual talent, and a limited supply of buildings suitable for the changing needs of biotech and pharmaceutical firms, local property owners are making major renovations and ratcheting up the amenities on their campuses.
The changes are happening at properties old and new, big and small. Since purchasing the nine-building Coast9 campus in Sorrento Valley in 2010, owner BioMed Realty Trust Inc. has invested millions in new on-site amenities, including a fitness center, café, deli restaurant and deluxe conference and meeting center.
"The landlord and the tenants know that you could use that conference area to host potential investors, or workers you're trying to recruit," said Grant Schoneman, vice president in the San Diego office of brokerage firm Jones Lang LaSalle.
While they are carefully gauging the potential impact of a recent wave of global life-sciences mergers and acquisitions — which historically have reduced demand for local space as companies seek to avoid administrative duplication — local experts say there is likely much more campus upgrading on the way to accommodate life-sciences growth.
Local space availability remains tighter than for the general office inventory, with overall life-science vacancy declining since 2009 and reaching 11 percent at the end of the third quarter, according to the brokerage firm Cushman & Wakefield. Vacancy rates are even lower among newer Class A properties in the key life-science hubs of Torrey Pines, UTC, Sorrento Mesa and Sorrento Valley.
Little New Construction
Since there is little new construction in the pipeline, renovations will become more prevalent as owners replace aging buildings and fit them with features now in demand by companies fiercely competing for a limited supply of qualified workers.
"The property owners are going for the best and the brightest companies, and the best companies go for the best spaces," said Brian Starck, a Cassidy Turley San Diego broker who handles life-sciences properties. "They are working with tenants to give them what they need, but they are also keeping the spaces flexible, so if one tenant moves out, the next one can make use of the same space."
Experts pointed to campus amenities that are becoming increasingly convenient and upscale, geared to attracting the highly trained employees already drawn to the overall region's weather and lifestyle.
For instance, at Nautilus, a three-building Torrey Pines campus that formerly housed Merck and is now anchored by Verenium Corp., owner Alexandria Real Estate Equities Inc. has installed state-of-the-art gym and meeting facilities, and there's a restaurant featuring healthy fare called Green Acre, led by celebrity chef Brian Malarkey, operator of Burlap and several other popular eateries.
Ryan Egli, a CBRE vice president who heads the brokerage firm's San Diego life-sciences practice, noted that San Diego County saw a record amount of life-sciences leasing in 2011, at more than 1.1 million square feet.
Much of that was due to large firms increasing their local footprint, such as Celgene Corp. and Illumina Inc. Since there is continuing strong demand among smaller firms for spaces 20,000 square feet and lower, local landlords likely will continue to see the value of competitive renovations for the foreseeable future.
Schoneman noted that there have been many instances in the past where local life-sciences entrepreneurs went on to start other companies after selling their firms to bigger players, and there are indications that the trend continues to keep local space in demand.
Big Three Dominate
Much of the major campus renovation work in coming months will be done by the "Big Three" real estate investment trusts that collectively own more than half of the local life-sciences inventory — BioMed, Pasadena-based Alexandria, and HCP Inc. of Long Beach.
Egli noted that extensive renovations and amenity upgrades are likely on the way at a three-building Torrey Pines campus that Legacy Partners recently purchased from Pfizer Inc. for $51.2 million.
"Those REITs have the resources and the big money to do those major tenant improvements that these properties are going to need," Egli said. "Some of these properties are being leased up almost as fast as they're improved."
In Sorrento Valley, changes at BioMed's Coast9 campus, with a 40-year history predating the rise of biotech as an economic force in San Diego, have paid off with the recent addition of two new life-sciences tenants — Royal DSM, a Netherlands-based firm new to the local market, and Ambit Biosciences Inc., which relocated from another site in the San Diego region.
BioMed President Kent Griffin said the company is responding to workplace changes now in demand by the technology community, including the desire for energy-efficient, collaborative workspaces and on-site services that help save time and keep employees productive.
Many of these changes have been playing out for the past decade in other markets where BioMed has a large presence, including Boston/Cambridge, Silicon Valley and the San Francisco Bay area.
"We acquire these buildings with the intention of keeping them for a long time," Griffin said. "You try to gear improvements to the needs of individual tenants, but they should also be things that can serve other tenants over time."
Slow, But Steady Growth
Greg Bisconti, a San Diego senior director in Cushman & Wakefield's global life-sciences practice group, said the local property vacancy rate has yet to return to the 6 percent seen in 2007 before the recession.
However, there are several factors pointing to steady albeit slow growth in space demand, and the region should be able to counterbalance potential down-sizing of real estate footprints that could result from recent high-profile mergers and acquisitions.
Venture capital infusions to the life-sciences industry have recently slowed, Bisconti said, and the IPO market has become hazardous, while federal funding from agencies including the National Institutes of Health could face cuts in the coming year. However, those trends are being offset in part by large pharma and biotech firms investing in smaller local companies through licensing and partnership agreements.
The San Diego region ranks third in the nation — after Boston and San Francisco — for the size of its life-sciences real estate inventory, more than 16 million square feet. It also has among the nation's highest concentrations of professionals with Ph.Ds. in life-sciences, and many of those want to retain their current local lifestyle.
"Hopefully we will have more of these big companies looking to keep the fish in the local pond, instead of transplanting them to other ponds," Bisconti said.