MEDICINE: FIRST-IN-CLASS DIAGNOSTIC USES BIOMARKERS
Blood Test May Aid in Diagnosis of Depression
Monday, October 22, 2012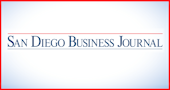 RIDGE DIAGNOSTICS INC.
CEO: Lonna J. Williams.
Revenue: Pre-revenue.
No. of local employees: Less than 50.
Headquarters: La Jolla.
Year founded: 2007.
Investors: Private Investors.
Company description: Ridge Diagnostics is a neurodiagnostic company offering its proprietary first-in-class blood test for major depressive disorder (MDD) through its CLIA certified laboratory in North Carolina. Based upon its proprietary human biomarker library and its biomarker hyper-map technology platform, Ridge Diagnostics researches, develops, and commercializes multi-variant biological marker assays and diagnostic algorithms to aid in diagnosing, selecting and monitoring the treatment for major depressive disorder and other neuropsychiatric disorders.
Key factors for success: The company has attracted a management team of seasoned and accomplished life science executives and recognized scientists. It has developed the first blood test to aid in the diagnosis of major depressive disorder. There are currently no similar diagnostic tools to aid physicians in diagnosing depression.
Ridge Diagnostics Inc...