Court Rejects Environmental Challenge to Navy Broadway Project
Friday, October 19, 2012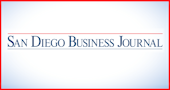 A federal court has ruled against a challenge by environmentalists seeking to block the $1.6 billion redevelopment of the Navy Broadway complex in downtown San Diego, known as Pacific Gateway.
U.S. District Judge Jeffrey Miller ruled that a new environmental study is not required before the project can proceed. Navy Broadway Complex Coalition had argued that the Navy's original environmental assessment did not adequately consider possible terrorist threats to the site, and other elements that have changed in the area since the project was originally proposed.
U.S. Navy officials were "extremely pleased" by the ruling, according to a statement from the Navy's Southwest regional office in San Diego. The Navy "will need a few days" to fully study the ruling and discuss the next steps with lessee Manchester Pacific Gateway LLC.
"Our commitment to this project is unwavering and this redevelopment is in the best interests of the Navy and the city of San Diego," the Navy statement said.
The environmental coalition has said it expects to appeal the decision. Regardless of the court outcome, the project would also need approval from the California Coastal Commission before it can move forward.
The Navy accepted a plan for the project in 2006, calling for developers to build the Navy approximately 350,000 square feet of office space, replacing older facilities on the 12-acre, Navy-owned property at the foot of Broadway off North Harbor Drive.
In exchange, the firm led by developer Douglas Manchester was granted rights to build a two-phase project with office, hotel and retail elements.
Developers have said the project would include 240,000 square feet of spec commercial office space, to be leased to non-Navy tenants, along with a 1,000-room convention-style hotel, a 193-room standard hotel, and approximately 135,000 square feet of retail.