Median Home Price Rises to $350,000
Tuesday, October 16, 2012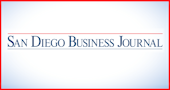 San Diego's median home price in September increased to $350,000, up 11 percent from the prior year's September median price, and maintained an upward or flat trend evident in the last six months, according to the most recent Dataquick report.
For the past month, total sales in the county were 3,214, up 4 percent from September 2011.
For the entire Southern California region, the median price of all homes sold was $315,000, up 12.5 percent from the prior year's September, Dataquick said.
That was the highest median since the median hit $330,000 in August 2008. The regional median has risen each month for eight consecutive months, and increased year-over-year for the past six months, the report said.
The price appreciation is the result of two factors: higher demand, along with a change in the types of homes selling. The transactions include far more mid- to higher priced houses, and fewer heavily discounted foreclosures, Dataquick said.
John Walsh, Dataquick's president, said if the upward pricing trend continues to hold, eventually the market should rebalance with more supply, but that may take many months.
"More and more potential move-up buyers who do have equity will be thinking about timing their next purchase to maximize the advantage of super-low rates and relatively low prices," Walsh said. "As more potential sellers get off the fence, or no longer owe more than their homes are worth, we'll see the inventory of homes for sale rise. That's going to limit price appreciation."