BIOTECH: STEM CELLS MAY HELP BRAIN ILLNESSES
NeuroGeneration Tackles Parkinson's
Monday, October 15, 2012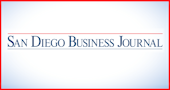 A San Diego presence and collaborations with local industry, academia and pharmaceutical firms may go a long way toward advancing Los Angeles-based NeuroGeneration Inc.'s ambitious Parkinson's disease research efforts.
The new arrival to the Janssen Labs incubator space hosted by Johnson & Johnson in Torrey Pines is still in the process of setting up its more than 1,000-square-foot lab and recruiting a staff of five initially, with plans to expand to a dozen within the next 12 months. The company's local focus will be on research and development while clinical studies continue in L.A.
NeuroGeneration has already completed a Phase I clinical trial for its Parkinson's disease therapy using adult-derived autologous neural stem cells. These adult neural stem cells are in contrast to embryonic stem cells.
Dr. Michel Levesque, NeuroGeneration's scientific founder, president and interim CEO, said the company intends to conduct a Phase II study for the treatment of Parkinson's disease in six months to a year pending animal studies that will take place in Northern California to satisfy Food and Drug Administration requirements. While the company pushes its Parkinson's treatment through to Phase II, he said it continues its preclinical studies in areas such as spinal cord injury, multiple sclerosis and amyotrophic lateral sclerosis, aka Lou Gehrig's disease.
State of the Art Tools
Levesque said one advantage to setting up shop in San Diego at the invitation of Johnson & Johnson is having access to Janssen Labs and its state of the art proteomics and neurogenomics tools as well as advanced microscopes and tissue culture facilities. These will be useful in analyzing neural stem cell lines with pathologies from Alzheimer's disease and Parkinson's disease to study their behavior and gene profiling while interacting with molecules, he said.
Another benefit is the collaborative opportunities presented by the region's major institutions, medium to large pharma companies and even foreign companies from Japan and Europe. NeuroGeneration already has a foot in the door with the Sanford Consortium of Regenerative Medicine, comprised of The Salk Institute, The Scripps Research Institute and UC San Diego.
And a senior research neuroscientist from The Salk Institute, Mohamedi Kagalwala, has been tapped to head the new laboratory as director of the Division of Biotherapeutics and Drug Discovery. Levesque said Kagalwala was selected for his extensive experience in adult neural stem cell and brain repair mechanism.
"He brings an interest for pharmacological modulation of neural stem cells in patients with schizophrenia and depression," Levesque said. "These are all additional applications of our drug discovery program in looking into how these cells can help patients with these disorders — schizophrenia and depression. There's a lack of spontaneous growth of neural stem cells in patients with these disorders."
The Riddle of Neurogenesis
Kagalwala said he spent nearly five years at Salk researching adult neurogenesis, a process by which neurons are born in the hippocampus — an area of the brain involved in memory formation, organizing and storage — and give rise to new neurons. The generation of new neurons in the brain applies to any study in brain repair and neurodegenerative disorders, and specifically to Parkinson's and Alzheimer's diseases, he said. Studies could lead to harnessing the power of neurogenesis to repair damaged areas in the brain.
Kagalwala said he's excited about the potential for taking the adult stem cell platform toward endogenous brain repair.
"What we're trying to do is replace the cells that are damaged and give the patient the ability to fight the disease in their own brain," he said, noting that Parkinson's affects 1 percent of the population over 65 years old. "It will be like the immune system and how it fights disease. We want to give power to the brain to repair itself and not be dependent on outside elements anymore."
Part of the company's research will be based on recent Nobel Prize-winning technology in which skin samples taken from patients will be reprogrammed as iPS, or induced pluripotent stem cells, which are similar to embryonic stem cells but not embryo derived. Those cells can be differentiated into brain cells such as neurons so that defects in the neurons can be examined. Diseases such as Parkinson's can be modeled this way in a dish, enabling researchers to set up a drug discovery platform or even cell replacement in the future.
In addition to gaining access to expensive equipment such as a nuclear magnetic resonance machine and FACS sorting tools to sort cells, Kagalwala is enthusiastic about being able to attend more conferences and getting insight into new research happening on the mesa.
"There's so much wealth here in terms of knowledge. It will be irresistible to collaborate with the institutes here," he said.