HEALTH: INVESTMENT IN EMPLOYEE WELLNESS PAYS OFF FOR COMPANIES
Putting a Price on Good Health
Monday, October 8, 2012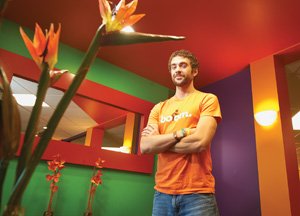 Wellness program providers can substantiate financial returns as incentives for corporations to get on board with health-wise activities but equally important motivators include improving workplace culture, increasing staff productivity, and maintaining a recruiting and retention tool.
Debi Heck, vice president programs solutions and health strategies at San Diego-based American Specialty Health, a provider of the nationally known Healthy Roads corporate wellness program, says companies that participate in wellness programs can expect to break even on their investment the first year and start to realize savings of $3 for every dollar invested by year three as a broad industry standard.
"If we can get people to reduce their stress levels, exercise more, lose weight and quit using tobacco, research shows that will actually contribute to lower health care costs down the road," she said.
The heart of the comprehensive wellness offerings is a health risk appraisal, called a personal health assessment, which includes a personal action plan derived from the assessment. Heck said activities are tailored to the clients and include tracking weight, blood pressure and cholesterol levels and engaging participants in online competitions and challenges. One goal may be to walk 100,000 steps a month and rewards for completing the goal could be earning a reduction on health insurance deductibles, premium reductions, health savings account reimbursements or cash prizes.
American Specialty Health has been a pioneer in telephonic lifestyle coaching and disease management in which participants meet regularly by phone with coaches to work on goals and objectives such as getting more exercise while traveling for business, or making sure they're following their medical regimens. Participants are encouraged to devise a plan of action they can sustain and make changes in their own behaviors and actions. The main areas of focus are tobacco cessation, weight loss, weight management, stress management and healthy eating.
Online Reporting Tool
An online reporting tool is made available to clients from the outset so American Specialty Health can measure ongoing engagement rates. From an aggregate perspective, Heck said they can identify how many people were involved in coaching or engaged in the competitions and challenges, and they can measure outcomes such as whether the participant quit smoking.
A former American Specialty Health staffer, Bryan Van Noy, joined forces with Danna Korn in 2007 to create a socially engaging wellness program under the banner Sonic Boom Wellness. Based in Carlsbad with 20 full-time employees, Sonic Boom's customizable programs offer games or modules geared around the daily health habits and physical activity of the participants.
Ross Gensler, business enhancement guru for Sonic Boom Wellness, said the program is fueled by social networking through games and competition such as Joust. Individuals or teams can joust by seeing who can avoid fast-food the longest or some similar competition. Gensler said employers can design which games to turn off and on and use incentives such as virtual trophies to reward participants.
"A new client will start off with the basics and introduce a new module after six months or maybe a year," said Gensler, who reports the company has 80 clients representing 110,000 employees. "The program builds as the employees become more comfortable and familiar with it."
Gensler attributes a high participation rate of 60 percent on average nationally, and as high as 92 percent at its top client, to the fun approach highlighted in its "Wacky Wellness Works" tagline.
"People are more prone to participate when they have several different options and there's typically an option for everyone," he said.
Participation Reduces Premiums
Although Gensler said it's difficult to prove specific return on investments based on participation in wellness programs, he can cite one company with 650 employees that experienced a 9 percent reduction in its health care insurance spending trend in 2011, and another cooperative pool of 27 employers with 1,200 total employees were able to achieve a 6 percent trend in health insurance rate increases compared to an industry trend of 12 percent annually.
Bringing down health care insurance costs is becoming more of an issue with the implementation of the health care reform initiative, according to Maggie Osburn, executive vice president of business development and marketing for locally based Intercare Insurance Solutions.
"If companies don't take a proactive approach, they risk their health care insurance costs going up," said Osburn, explaining that one of the national health insurance companies recently stated that effective January 2014 it will be adding $20 per employee per month to premium rates as a direct result of the health care reform mandates.
Osburn said companies will not only be able to save money through targeted wellness initiatives, but they'll also improve the health of the employee population, and improve the performance of the overall organization by having more productive employees.
"We find companies that are focused on wellness have a very different culture when they start to focus on wellness," she said.
Lane Caruso, senior vice president of health and performance for the Intercare Insurance Solutions, added that the firm's clients are generally very involved in wellness, and for those who do participate in wellness programs, medical plan renewals are below those not engaged in wellness programs, and some have achieved flat or decreased health insurance renewals. Examples include Encore Capital Group, which had no increase for three consecutive years within the past few years, and Volcano Corp., which had favorable renewals for two consecutive years as a result of wellness participation.
National Studies Show Return
Osburn said national studies have shown the return on investment for companies participating in wellness programs ranges from $3 to $8 over time.
"We are literally preaching the gospel to clients that they are going to get ahead of the increasing health care cost trend," Osburn said.
At MD Revolution in La Jolla's XiMed Medical Center a variety of tools, from genetic testing to mobile health technology and personalized medicine, are used to improve lives and lower health care costs. In addition to an online portal, MD Revolution employs a dashboard and alerts system, mobile health tracking, mobile apps, biometric screening to evaluate such things as blood pressure and cholesterol levels, genomic tests as well as personal fitness and nutrition plans.
Clients evaluated at MD Revolution can receive a Personal Health Profile that compares current resting metabolic rates and fitness levels to goals, specifies recommended caloric intake to achieve desired weight loss, and provides body composition and analysis data. Along with a wellness score, the Personal Health Profile includes a report card on metabolism, fitness, visceral fat, bone mass and body fat.
"The more leverage you get through using different components the more comprehensively you're treating patients," said Dr. Samir Damani founder and CEO of MD Revolution. "Nearly 100 percent of patients going through our program are observing statistically significant improvements in one of four key performance metrics — reduction in visceral body fat, improvement in metabolism, decrease in body fat and increase in respiratory fitness."
MD Revolution states that its programs cost from $150 to $800 per year but the anticipated ROI per employee per year as defined by improved productivity, and reductions in absenteeism, presenteeism and health care claims is $1,000 to $2,000 for zero risk factors, $3,000 to $9,000 for one risk factor and $9,000 to $18,000 for two or more risk factors.
Another option for companies interested in implementing a wellness program is Barr Wellness of Pacific Beach. Founded in 2010, Barr Wellness manages 15 clients with a staff of seven.
Barr Wellness owner Korben Konrady says the company sets itself apart from the competition by focusing on onsite coaching, particularly among groups as low as 50.
"The reason onsite coaching is important is because the participation rate is about 75 percent and with other programs you have a really hard time engaging the employees," said Konrady, who lists services such as biometric screenings including blood pressure and body mass index measurements, group exercise classes, and nutritional and exercise plans.
"Every company is going to have a little bit of trial and error to figure out the best programs so that's why it's important to try a variety of things and see what the employees respond best to," he said.