Real Estate Roundup
Monday, October 1, 2012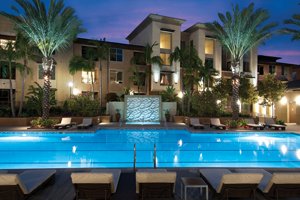 Civita Neighborhoods Win Five Major Design Awards
Civita, the new 230-acre master-planned village in Mission Valley developed by Sudberry Properties, proved to be best of the best at the San Diego Building Industry Association's Icon Awards, winning five major design awards, the most of any master-planned community.
Sudberry's Circa 37 Apartment Homes won the awards for Best Architectural Design for Multifamily Residences and Best Landscape Design for Multifamily Residences. MVE & Partners of Irvine designed the 306-unit luxury apartment neighborhood and Lifescapes International Inc. of Newport Beach designed the landscaping.
Shea Homes' Origen with three- and four-story townhomes that soar up to 50 feet in Civita won the award for Best Community – Attached. Origen also won Best Interior Design of Multifamily Residences for a skyLoft plan and Best Sales/Leasing Office. Design Line Interiors designed both the model and the sales office.
At Civita, Sudberry Properties is transforming a 70-year-old sand and gravel quarry into a sustainable, transit-oriented, urban village in a garden setting. The community is designed around a 20-acre neighborhood park and civic area, with a network of footpaths, bike paths, and vista parks.
Plans call for 4,780 residential homes and apartments in numerous configurations, approximately 480,000 square feet for a lifestyle retail center and 420,000 square feet for an office/business campus. Civita has already earned major regional and national recognition for its sustainability, smart growth, and environmental leadership, including the 2009 California State Governor's Award for Environmental and Economic Leadership (GEELA), California's highest environmental honor.
Pardee Homes' Sorrento Heights Opens Phase Four
Brisk sales and recent sold-out phase releases have facilitated the need for the release of phase four at Pardee Homes' Sorrento Heights. The builder is expected to release eight homes for sale.
Located above Sorrento Valley on the mesas and hills that overlook the canyons of Los Peñasquitos Canyon, Sorrento Heights includes 113 energy-efficient homes; pricing is from the $650,000s.
Sorrento Heights features single-family detached homes with four bedrooms, two and one-half to three baths and approximately 2,155 to 2,509 square feet.
"The pent up demand for new homes in the Sorrento Mesa area was evident at the recent grand opening of Sorrento Heights, when nearly a thousand people toured the three model homes over the course of the grand opening weekend," said Rachel Collins, director of sales for Pardee Homes. "Home shoppers have indicated that they are very impressed with the eco-advanced features demonstrated in the 'green room' and the included, drought-tolerant front yard landscaping."
Among the design options available at Sorrento Heights are a versatile outdoor room and cutting-edge Nexia Home Intelligence System that helps homeowners conserve energy and reduce monthly costs by remotely managing lights, heating and air conditioning. Energy-efficiency is also addressed with the LivingSmart package of energy saving features and options that are designed to boost energy efficiency, help reduce water consumption and improve indoor air quality.

"The combination of exciting new design elements and Pardee's LivingSmart program are certain to meet the needs of savvy San Diego home shoppers," added Collins. "The location is also a big plus, with its proximity to Sorrento Valley, UCSD, La Jolla and all the high-tech companies in the area.
ITT Educational Services Signs Lease in South Bay Corporate Center
Jones Lang LaSalle negotiated South Bay Corporate Center's first lease since the vacant 198,000-square-foot building was purchased by Greenlaw Partners. ITT Educational Services leased 45,000 square feet of space at South Bay Corporate Center, located at 401 Mile of Cars Way in National City.
Jones Lang LaSalle's Executive Vice President Tony Russell negotiated the lease on behalf of Greenlaw Partners. The tenant was represented by Don Mitchell of Cresa Partners.
"We're in negotiations with several other tenants, potentially for the balance of the space available in the building," said Russell.
Davidson Honored By BIA Of San Diego County
For the 15th time since its founding in 1978, Davidson Communities has been recognized for creating the best new homes in San Diego County.
Last week, Arista at The Crosby at Rancho Santa Fe was named San Diego's best new detached community during ceremonies presented by the Building Industry Association (BIA) of San Diego County. This top honor is the latest in a 30-year history of Davidson's Grand Award winners, which began in 1980 with Davidson's Leucadia Village. Other Grand Award winners for Davidson include Pointe Del Mar, Blackhorse La Jolla, Mt. Woodson, Cielo and Davidson at Santaluz.
Arista at the Crosby was just the most recent new home community to bring design acclaim to the Del Mar-based homebuilder.
Arista at the Crosby was presented with "Best Community" honors at the 2012 Icon awards, which recognized the best and brightest in the local real estate community.
This year's Icon awards attracted 78 eligible project entries, an increase of 15 percent over last year.
Davidson's Plan 1 at Arista also won an Icon award for Best Interior Design in the Single Family Homes category, honoring the work of Del Mar-based Design Line Interiors.
"It's an honor to be recognized by professionals from the building industry who truly understand what it takes to create a project like this," said Bill Davidson, president of Davidson Communities. "Arista's success is a combination of terrific architecture, highly functional floor plans, and an interior design that helps our customers visualize how they could live in the space."
Arista's three floor plans were designed with a downstairs master living suite and the option for multiple master suites upstairs.
Homes range from 2,926 to 3,593 square feet with up to five bedrooms and five baths.
"Arista really connects with home buyers because these plans are so flexible," said Davidson. "The possibilities for multiple master bedroom suites, upstairs and down, can accommodate all kinds of lifestyle preferences including a private office, a returning child, or an elderly parent."