DEFENSE: COMPETITION, SEQUESTRATION, INCREASING COSTS ARE INDUSTRY CONCERNS
Privately Held Defense Companies Thrive in Niche Markets
Monday, October 1, 2012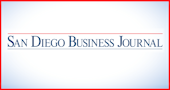 Boeing and United Technologies Corp. make billions of dollars in profit for their shareholders, while collecting annual revenues of $68.7 billion and $58.2 billion respectively.
They are among the giants of defense contracting.
But there is a place for small, privately held defense firms as well.
These businesses, with revenues in the tens of millions of dollars, can thrive in niche markets, or markets where growth may be too slow to satisfy the stock market's appetite for earnings. That is according to San Diego executives who run some of those businesses.
When an executive pushes into any new market, there are likely to be losses, said Eric Basu, CEO of Sentek Global, a private defense contractor with $17 million in revenue in 2011. The logical question to ask is, what is a realistic time frame to monetize the work? Eighteen months will likely be too long for the public markets. Shareholders want profits every quarter.
Private capital has the patience for an 18-month turnaround, Basu said.
The advantage of being private is "the ability to make a longer term decision on how you invest your money," the CEO said.
There is the ability to take risks and work at lower margins than the big defense houses, added Jim Lasswell, CEO of Indus Technology Inc., the biggest defense contractor on the San Diego Business Journal's list of Largest Private Companies. (Privately held General Atomics and its affiliates do not reveal revenues and therefore are unranked.)
Big defense contractors have to make so much money per job, Lasswell said.
Lasswell noted that private defense contractors are ideal for jobs where the government does not need a full-time employee. The government can put such services out to bid frequently, and get them cheaper, he said.
Increased Competition
Indus, which offers system engineering and program management services, reported $33.7 million in 2011 revenue, slipping slightly from $33.8 million in 2010. The employee owned firm has around 200 employees — down from about 300 in the middle of 2011.
"Life is getting more competitive," said Lasswell.
Indeed, he says his biggest customer, the U.S. Navy, is hiring away his contractors to become government employees, a move the defense industry calls "insourcing."
Lasswell likens competition in the defense contracting world to a scene in the Serengeti region of Africa, with wild animals clustering around a watering hole that is getting smaller and smaller.
Sentek, which has 112 employees, specializes in systems engineering, information assurance and other services. The business grew 70 percent from 2010, when revenues were $10 million.
TechFlow Inc., the second largest defense company on the list, declined to be interviewed for this article. TechFlow turned in an enviable 33 percent growth between 2010 and 2011, going from $24.3 million in revenue to $32.4 million. TechFlow's specialties include engineering, information technology and administrative support. Clients include the U.S. Army Corps of Engineers.
Uncertainty about the federal budget, and the potential for across-the-board cuts, has small contractors concerned.
"We weren't hit by the recession as much," said Georgia Griffiths, principal with G2 Software Systems Inc. which had revenue in excess of $21 million last year. "We may be hit by sequestration," she said, using the word for the threatened defense cuts.
Then again, she said, the cuts may impact larger contractors rather than smaller contractors.
"If they cut R&D, that's going to hurt us," Griffiths said. "If they quit buying bullets, that won't hurt us."
Griffiths declined to give details on the projects at G2, which employs highly specialized engineers. She said she expects to grow revenue in 2012.
Health Care Cost Concerns
Basu, the Sentek CEO, said large defense houses have layoff plans. "We certainly aren't planning anything like that," he said.
But he warned that sequestration may take a toll on the defense work force. Basu compared the situation to the city of New Orleans in 2005.
Certain residents of New Orleans left the city in advance of Hurricane Katrina, meaning to come back, Basu said. However, some never came back. In the same way, he said the defense industry may lose talented engineers for the short term, but that population won't return 100 percent.
Small, private defense contractors are also dealing with a changing health care picture, as premiums rise and as the nation appears to be headed toward wholesale changes under the Affordable Care Act (aka Obamacare).
Basu said Sentek pays 100 percent of the premium for medical, dental and vision insurance for employees, but 25 percent of the premium for dependents. Costs are "skyrocketing," he said, and he expects premiums to grow larger under the Affordable Care Act.
Lasswell, of Indus Technology, said premium costs are rising in the teens every year, and that he has had to "chip away" at benefits and share more costs with employees.
Griffiths, of G2, said a significant part of her employee base is part-time workers. She said the prospect of "significant monthly fees" for part-time employees under the Affordable Care Act may mean her business will no longer be able to hire part-timers.