MEDICINE: EFFORTS AIM TO TARGET TREATMENT, AID DISEASE MANAGEMENT
Epic Brings New Tools to Cancer Detection
Monday, November 26, 2012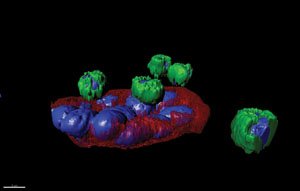 EPIC SCIENCES
CEO: David Nelson.
Revenue: Not disclosed.
No. of local employees: 25.
Investors: Domain Associates, Roche Venture Fund, Pfizer Venture Investments, and others.
Headquarters: Torrey Pines Mesa.
Year founded: 2008.
Company description: Epic is developing highly sensitive diagnostic tests that reveal circulating tumor cells (CTCs) in the blood to provide a better and faster way to detect cancer and to monitor and personalize cancer treatments.
Key factors for success: Breakthrough science and technology for an important medical need; collaborative pharma partnerships that have advanced the technology into clinical trials; having the support of experienced investors.
Even in a challenging economic climate, San Diego startup Epic Sciences has been able to access private, venture capital and government financing to advance its work in developing diagnostics that could be used to detect and guide treatments for many types of cancer...