Apartments Debut as First Part of Barrio Logan Redevelopment
Friday, November 16, 2012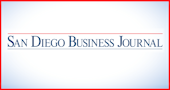 Developer Chelsea Investment Corp. of Carlsbad has opened its newly built 92-unit affordable housing complex in San Diego's Barrio Logan redevelopment project area, financed in part by the San Diego Housing Commission.
Approximately 150 people, including government and community leaders, attended a ceremony marking the opening of Estrella del Mercado Apartments, located off Cesar E. Chavez Parkway between National Avenue and Main Street near Chicano Park.
The apartments are part of the larger mixed-use Mercado del Barrio redevelopment project, being developed by several firms and set to include a Hispanic-themed Northgate Gonzalez Market, 48,000 square feet of additional space for retail shops and restaurants, and a community theater.
The housing commission invested $7.11 million to acquire the land for the apartments, and provided a loan toward the $43 million development. The housing commission will have an option to buy the property after a 15-year tax-credit compliance period, according to a commission statement.
The affordable units of Estrella del Mercado, restricted to families with incomes at 30 to 60 percent of the San Diego area median income, were leased out in less than two days. The one-, two- and three-bedroom apartments will remain affordable for 99 years.
— SDBJ Staff Report