Three Young Firms Get a Boost From Qualcomm
Monday, November 12, 2012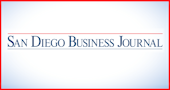 Qualcomm Labs Inc., the incubator subsidiary of Qualcomm Technologies Inc., announced its first round of investments into three startup businesses totaling $550,000.
The three companies receiving funding are Arynga, which got $250,000; FatSkunk, $250,000; and Breadcrumbs, $50,000.
In addition to the seed funding, each of the firms receive free rent up to two years, business services and mentoring through the EvoNexus incubator offices in either Downtown San Diego or University Towne Center. EvoNexus is part of CommNexus, the nonprofit high technology trade organization.
Rory Moore, EvoNexus chief executive officer, said the combination of EvoNexus' proven results and Qualcomm Labs' expertise in technology innovation will get the companies off to a great start.
Arynga makes software for the transportation, travel, hospitality, energy and consumer electronics industries.
FatSkunk makes software that detects malware on mobile devices.
Breadcrumbs make a mobile app for Android and iOS that provides an automatic timeline of a user's day.
The firms were selected from a group of about 100 firms that submitted applications for the incubator. This is the 11th round of companies chosen to enter the EvoNexus program.
— SDBJ Staff Report