ADVERTORIAL: BANKING FORECAST SUPPLEMENT
SBA Encouraged by Growth in Lending
Monday, November 12, 2012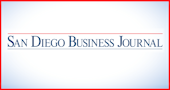 In San Diego and Imperial Counties, SBA District Director Ruben Garcia says, we're getting encouraging news that business lending is showing new signs of strength. You may have seen that the FDIC recently released data showing that banks had their biggest increase in business lending in four years. And the Wall Street Journal recently wrote "At Last! Banks Are Making New Loans." Lately, small business owners are no longer talking about fighting for survival; they're talking about needing a loan to take advantage of a new opportunity, hire another worker or buy more inventory. There are additional signs that more money is getting into the hands of business owners. The Department of Treasury began receiving reports from the banks that participated in the Small Business Lending Fund (SBLF). Already these financial institutions, mostly community banks, have increased their small business lending by $3.5 billion. And, the 27 states participating (including California) in the State Small Business Credit Initiative are putting the funds to use, supporting lending to small businesses and small manufacturers.
Over the past four years, Administrator Karen Mills and the Small Business Administration (SBA) have made it a top priority to increase access to capital for small business owners across America. SBA has worked hard to provide small businesses with access to capital – even during the depth of the recession. Thanks to the Recovery Act and the Small Business Jobs Act, SBA had a record year in FY2011, supporting more than $30 billion in small business lending across the country.
We all know that even though lending is on the rise, there's still more to be done here in San Diego. That's why SBA is working hard to continue filling gaps in the market place. For example, we're working with some of the largest lenders around the country, who last year committed $20 billion for small business lending over the next three years. We're working to streamline our processes and make it easier for small businesses to benefit from our programs. We recently revamped the CAPLines program to provide a working line of capital to certain businesses, including manufacturers and government contractors. We also created new programs, such as Small Loan Advantage and Community Advantage, which incentivizes lenders to make small-dollar loans and opens up SBA programs to new lenders, such as Community Development Financial Institutions.
We believe that this is just the beginning of the momentum small businesses need to keep growing and creating jobs. Everyone at SBA recognizes that this is a critical time for small businesses, and SBA is committed to helping them get the financing they need so they can lay the foundation for an economy built to last.
Submitted by Ruben R. Garcia, SBA District Director