CAREERS: TWO FORMER BANKERS PURSUE DIFFERENT PATHS
Life After a Long Career in Banking Is Just as Rewarding
Monday, November 12, 2012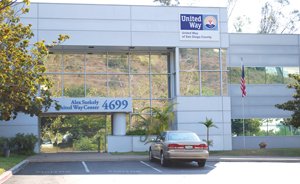 The end of the line in a banking career could mean a fresh start in fulfilling roles as two local go-getters can attest.
For Doug Sawyer, retiring after a 28-year stint in banking has opened new doors in nonprofit work as president and CEO of United Way San Diego. For Stanley Young, the path after banking has led to a more entrepreneurial route as founder of Gentlemen's Resale Clothiers in La Mesa.
Sawyer's Horatio Alger story began as manager of the Farrell's Fashion Valley ice-cream parlor while he attended San Diego State University. Sawyer, 63, left his managerial position to become a professional minor league baseball umpire in the California League Class A and was looking for an off-season job to supplement his income when he came across a want-ad from State Mutual Savings in San Diego and was hired as a teller in 1975.
He climbed the ladder by moving to Great Western Savings and after two years achieved his goal of working for what he considered to be a very healthy and employee-friendly San Diego Federal, which would eventually change its name to Great American Bank. Although he was originally hired as a branch manager of the bank's Sacramento main branch, he returned to San Diego a couple of years later to manage central operations out of the corporate headquarters in downtown San Diego.
"Then I stayed with Great American for 11 years," Sawyer said. "During that time I was eventually promoted to branch division manager responsible for all 130 branches in California."
In 1990, Great American was bought by Wells Fargo, so Sawyer used the opportunity to work for Security Pacific Bank, which eight months later merged with Bank of America. Sawyer went on to work another 11 years for Bank of America. He first spent his time as branch division manager for San Diego and then became executive vice president responsible for about 500 branches in Southern California.
Couldn't Stay Retired
"Then the last job I held there I was responsible for all small-business banking in the state of California," he said.
Sawyer left Bank of America in 2002 to become the founding president of Legacy Bank in La Jolla. He retired two years later, in 2004.
Retirement lasted just 15 months before his peers urged him to pursue a position as CEO and president of United Way San Diego, a nonprofit organization that raises and distributes money to community partners that are working on solving systemic problems in education in health and homelessness.
"When the United Way CEO job opened up they suggested I would be a good person to take that position and encouraged me to apply, which I did and was fortunate enough to be hired, and went to work here in July 2005," said Sawyer, acknowledging he had served on United Way's board of directors in the late '80s and early '90s and had a prior understanding of what the organization was trying to accomplish.
Sawyer says the biggest influence his banking career has on his current position is the people skills he acquired while serving in management jobs. The community contacts he developed as a banker have also helped, as has his involvement as past chairman of the San Diego Regional Chamber of Commerce, past president of the Holiday Bowl, and service on a number of boards including the American Red Cross San Diego/Imperial Counties Chapter, LEAD San Diego, Old Globe Theatre, San Diego Opera and the Reuben H. Fleet Space Theatre.
"In terms of running a business, it's basically the same," he says. "The primary difference is at a bank you're trying to make a profit whereas with the United Way you're trying to make a difference in people's lives. At this stage in my career I'm very glad that I'm with the United Way, but on the other hand banking was very good to me for a long period of time. It was just time to do something different and give back."
Not Without Challenges
Although Sawyer finds his current job rewarding, it's not without its challenges.
"The one challenge you always have in health and human services is the need always exceeds the ability to take care of the need," he says. "If there's one frustration, it's not being able to raise the money you'd like to to help make the community better."
Stanley Young, 66, took a similar route in banking, starting off with a job posting daily transactions at First Louisville Bank in Kentucky the summer after high school before transitioning to a similar job at Greater Louisville Bank after spending a year in college. Young said he moved to California after a stint in the Marine Corps and graduated from Cal State Los Angeles in 1974 with a Bachelor of Science degree in business administration and a real estate minor.
After college he turned to San Diego Federal where he worked as a collector and loan officer trainee. After being promoted, he was transferred to National City where he started a consumer loan office. Eventually San Diego Federal transitioned to Great American Bank, which ceased to exist.
Young says he left the banking industry 20 years ago to enter real estate appraising. The job was lucrative for a while, until an economic downturn hit and Young decided to open his own business, Gentlemen's Resale Clothiers in La Mesa.
'It's Been a Good Move'
"In the back of my mind I've always wanted to try something on my own and I've always been clothing oriented," Young says. "It's been a good move for me. One of the attractions of starting a consignment shop is you don't have to lay a lot of money out for inventory. You pay for it when it sells."
Young says opening the business was a natural fit as he had retail experience as a teenager and grew accustomed to dressing well for his banking jobs and special occasions in the Marine Corps. The first nine months was challenging, though, and Young said he spent a good deal of time on Sundays working at swap meets to get by. Every year since then he's been able to slowly grow the business and says he hasn't had a losing year yet.
Young said he relies on his banking experience quite a bit to keep the day-to-day operations of purchasing, selling, bookkeeping and marketing running smoothly. The many skills that carry over include managing money correctly, cultivating customers and collecting payments, he says.
Describing himself as a person who likes to be busy and involved, Young says he believes this job is more suited to him and he doesn't feel that the time he puts in running the shop six days a week is a burden.
"Here I can make all my own decisions," he says, admitting that he sometimes misses the perks of an expense report, health insurance and regular salary. "If it's reasonable I'll do it, whether it's buying, selling, trading, giving people credit or doing a layaway. In banking you have all the regulations and government rules, but here I'm not confined."