CINEMA: CUSTOMERS LURED WITH LUXURIES, TECHNOLOGY
Theaters Usher In a New Movie Experience
Monday, November 5, 2012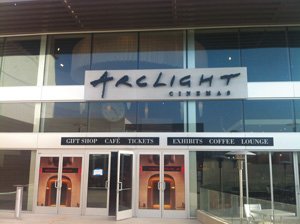 Movie theaters are ratcheting up amenities in San Diego County, as operators like Cinepolis Luxury Cinemas and now ArcLight Cinemas look to pull consumers away from streamed entertainment watched on big high-def TV screens in the surround-sound comfort of their living rooms.
ArcLight upped the ante with its recent opening of the 14-screen, 1,800-seat ArcLight La Jolla, at the Westfield UTC mall. It is the fifth location and the first outside the Los Angeles area for ArcLight Cinemas, which is a subsidiary of Pacific Theatres and a portfolio company of L.A.-based Decurion Corp.
The new multiplex, which at press time was slated to debut Nov. 2, is part of a larger $180 million renovation nearing completion at Westfield Group's mall off La Jolla Village Drive. ArcLight says the new theaters boast "black box" auditoriums, showing movies the way the filmmakers intended them to be viewed, with digital projection and extra-wide, stadium-style seats with double armrests. There are no commercials and seating is all-reserved, with no late-comers admitted once a movie has begun.
There is a sit-down café and full-service concession areas offering items like gourmet pizzas, salads and wraps, along with traditional movie treats.
Gretchen McCourt, ArcLight's executive vice president of programming, said the San Diego location was chosen for its proximity to the company's Los Angeles base, and also for the strong household demographics of the La Jolla/ UTC area.
"For the past 10 years, we spent time perfecting the concept of the moviegoing experience in Los Angeles," McCourt said in an email. "ArcLight is a place where you can truly lose yourself in the movies, a place where our guests are able to immerse themselves in the film they're watching, free from hassles and disruptions."
Lifelike Surround-Sound
McCourt said the UTC location, which employs 65, has a theater equipped with the Dolby Atmos system, which brings lifelike surround-sound to movies, and a "wireless box office" that enables moviegoers to purchase tickets similar to the way customers buy iPads at an Apple retail store.
She said there are currently no formal plans by ArcLight to open more theaters in San Diego County, as the company remains focused on honing operations and gauging customer response at UTC.
Experts note that theater chains are increasingly deploying high-end amenities to combat flat ticket sales growth of the past five years. Consumers continue to trim discretionary spending and find numerous ways to watch movies at home, including on-demand cable and satellite services, and streaming options like NetFlix.
"There is a trend toward more luxury, and providing experiences that can't be replicated at home," said Agata Kaczanowska, entertainment industry analyst for research firm IBISWorld Inc. in Santa Monica.
IBISWorld reports that U.S. movie theater revenue grew an average of 0.7 percent annually during the past five years, to the current $14.2 billion, and is expected to rise 1.7 percent annually over the next five years. Declining theater visits during the past five years spurred a decrease in the overall number of locations, as operators nationwide closed underperforming venues.
Operators are now concentrating screens in fewer, larger megaplexes, which helps spread costs with the help of higher admission prices and concession sales. Kaczanowska said offerings such as full-service meals and alcoholic drinks, served at many luxury theaters, add to profits already generated by traditional high-margin concession items.
Up Against Cinepolis
ArcLight is now going up locally against Cinepolis Luxury Cinemas, the Mexico-based global operator that last year set up its U.S. headquarters in La Jolla and has since opened multiscreen luxury theaters in Carmel Valley and Carlsbad's La Costa neighborhood. Both opened in spaces vacated by Vista-based UltraStar Cinemas.
Cinepolis has since debuted in Laguna Niguel and Westlake Village, and within the next month will open its fifth location in Orange County's Rancho Santa Margarita. Managing Director Carlos Wellman said Cinepolis currently employs about 200 in San Diego County and continues to scout local sites for future expansion.
Wellman said his company's approach is similar to ArcLight's, although Cinepolis has its own offerings not offered elsewhere, like reclining seats and call buttons that allow moviegoers to have food and beverages brought to them in the auditorium.
"ArcLight is a strong competitor," Wellman said. "They have things like bar and restaurant services in their lobbies like our theaters, but we feel there are important differences in what we do."
Wellman said luxury movie operators are looking to draw movie buffs with advanced technologies and comforts, combined with hospitalitylike lobby settings that encourage socializing and spending more time on the premises before and after showings.
"It's the same reason some people go out to a nice restaurant instead of eating at home," Wellman said.