TECH: DEMAND GIVES ENGINEERS PLENTY OF OPTIONS
Software Sector Has The Hot-Jobs Ticket
Monday, November 5, 2012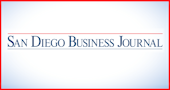 San Diego's software industry continues creating new jobs with positions added by both larger and smaller firms.
Because the industry overlaps so many sectors, it's hard to get an accurate gauge on just how many new jobs were added but a local trade group puts the number at 2,000.
"We've increased the number of software jobs here by 2,000 over the last year, and we still have significant number of job openings," said Bob Slapin, executive director of the San Diego Software Industries Council.
"Just about everybody is in the software business, and everybody needs software engineers."
A recent report from the TechAmerica Foundation found that from January to June, the U.S. high-tech industry added nearly 100,000 jobs to the economy. The software sector created 51,800 of those jobs, the report said.
Mitchell International Inc., the locally based provider of software to insurance companies for managing claims arising from auto accidents, said it added about 200 people over the past year to bring its total headcount to 1,669 including some 850 workers in San Diego. Mitchell has 45 openings, a spokeswoman said.
At the other end of the spectrum is Brightscope, a Web-based financial data processor and distributor that grew from 37 employees at the end of last year to 52 employees. While some of those jobs are in sales and marketing, the majority are involved in some type of data analysis and software development, said CEO Mike Alfred.
"We're hiring pretty steadily," Alfred said. "We should be at 55 by the end of the year, and at the end of 2013, I'd be surprised if we weren't at 70 employees."
The company that was started in 2009 had to move to larger office space this summer to accommodate its growth, relocating to a 7,000 square foot office in the University Towne Centre area.
While several companies said they're expanding their payrolls, they also say finding top talent has gotten more difficult.
Talent Search
"It's much harder today than it was last year," said Reid Carr, chief executive at Red Door Interactive, a local Internet marketing firm.
Since the beginning of this year Red Door added 10 new workers to bring its total to 70, Carr said. The jobs include business intelligence or data management people, software programmers and Web analytics.
The top software engineers are often freelancers who can afford to be picky about where they go because they are in such high demand, Carr said. "Now, just about everyone is hiring some manner of software person and at every level," he said.
At Covario Inc., a San Diego search engine marketing firm, its global employment increased from 135 at the end of last year to 220 today, including 133 people who work at its local headquarters office in the UTC area, said spokesman Rick Clancy.
"The company is growing both in breadth of the software products it offers for search engine analytics, and in the automation tools it offers for SEO (search engine optimization)," Clancy said.
Among the positions that Covario has been adding most often this year are software developers, SEO strategists, and paid search strategists, he said.
TechAmerica, the high tech industry trade group, released a study in late 2010 that stated San Diego was only one of two cities (the other being Denver) that had net gain in tech jobs in the prior year. The same report found the average salary for high-tech workers in San Diego to be above $93,000, nearly twice the region's average.
The Requirements
To qualify for such well-compensated positions a person needs at least a bachelor's degree, with the most common area of study being computer science, Slapin said.
While the preponderance of reports coming from industry trade organizations or directly from companies show a clear increase in software hiring, not every business is doing so.
Intuit Inc., the Mountain View based software corporation that maintains its TurboTax subsidiary here, said its total local staff declined by about 200 people in July following a company-wide "re-alignment strategy," said spokeswoman Julie Miller.
Intuit now has a local workforce of about 1,000 people with 550 of those working in the TurboTax division. The remainder work in corporate functions including finance, information technology, and a mix of other things, she said.
As for the reasons behind the job cuts, Miller said the TurboTax unit has less need for seasonal workers, and has become more efficient.