HEALTH CARE: BEACON PROJECT FACILITATES THE SHARING OF MEDICAL RECORDS
Hospitals Exchange Information to Improve Regional Health
Monday, November 5, 2012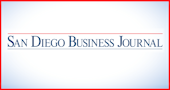 One by one, health care organizations from across San Diego County are banding together on an information technology platform to make the vision for improving coordinated care a reality.
Drawing them together is the San Diego Beacon Community project, launched in 2010 with a $15.3 million federal grant. As one of 17 communities nationwide participating in Beacon, San Diego was chosen by the Office of the National Coordinator for Health Information Technology to demonstrate how IT could measurably improve the health of a region.
The heart of the local Beacon project is the health information exchange that connects participating health care organizations electronically even as they maintain their separate electronic medical records systems.
San Diego Beacon Community program leader Dr. Ted Chan said the health information exchange allows caregivers to access patient information stored outside their own health care system, all in a very secure manner.
"This allows an authorized provider, with the patient's permission, to see the record electronically," Chan said.
OptumInsight, a global healthcare information company with headquarters in Eden Prairie, Minn., builds the health information exchange.
The health information exchange enables authorized physicians to request and access a complete and up-to-date medical record from other participating physicians who have also seen the patient for clinical care.
Chan said the electronic method of sharing medical data replaces a cumbersome system of faxing documents.
He adds that in San Diego 25 percent of patients who get readmitted to a hospital within 30 days of discharge are going to a different hospital.
In addition to improving efficiency, Chan says the new system holds potential for lowering health care costs as repeat tests are avoided and dangerous situations, such as prescribing medication to an allergic patient, are prevented.
VA and Kaiser Permanente
Getting on board with the health information exchange is the UC San Diego Health System, the VA San Diego Healthcare System, Rady Children's Hospital - San Diego, and newcomer Kaiser Permanente, which joined a few weeks ago.
Gearing up for participation are Sharp HealthCare and Scripps Health, which are in the planning stages in implementing the exchange within their systems.
VA San Diego Healthcare System was one of the early adopters of the Beacon initiative, and even had prior experience in a pilot health information exchange between the VA and Kaiser Permanente.
Graham Nixon, VA San Diego Healthcare System's director of clinical informatics, said although multiple criteria was behind securing the Beacon grant locally, the early success of the VA-Kaiser interchange — the first coordinated exchange of medical records between a public institution and the private sector in the country — helped pave the way for Beacon's launch.
After Beacon was initiated two years ago, the VA broadened its territory and began analyzing electronic medical records and determined that several thousand patients routinely seek care at both the VA and UCSD.
"It's been estimated nationwide that 75 percent of veterans get care somewhere else in addition to the VA," said Nixon, explaining that some veterans have health insurance or have spouses with health insurance. "We're sure the number is good nationwide but we think it's not quite that high in San Diego. Still, a high number of veterans get care at other facilities.
"Our motivation here is to continue to provide the best care we can," Nixon noted. "That care can be optimized by knowing definitively what treatment is provided for that patient somewhere else."
Before the health information exchange was set up, he said patients would go through a process of locating their medical records at UCSD, signing forms, waiting for the records to arrive and then delivering them to the physicians.
"When Beacon is up and running physicians see an aggregated view of treatment," Nixon said. "They get information more timely and more accurately and they don't have to rely on the patient to be a historian so much."
Four Goals
In addition to Kaiser and UCSD, the VA currently shares its medical information with the Department of Defense and other VA hospitals throughout the country.
Progress is also being made toward Beacon's four goals: improve care for emergency cardiac patients, reduce hospital readmissions, reduce unnecessary CT scans, and improve rates and reporting of childhood immunizations.
"Having a patient's medical information electronically at our fingertips will improve the care we can provide, particularly during emergencies," said Dr. David Guss, an emergency medicine physician and board member of San Diego Regional Healthcare Information Exchange, an independent community organization that has assumed leadership and oversight of the San Diego Beacon Community. "For example, having an electrocardiogram transmitted electronically to our emergency department from the ambulance reduces the time to treatment, promotes better care, and improves the outcome for a patient suffering a heart attack."
"We really are just starting to see the system come into production and we're hoping over the next few months we'll get more involvement," said Chan, who aims to start collecting data on such things as cost savings associated with Beacon. "It's taken a couple of years to get the projects going and now we're starting to see the benefits."