EDC Gets 11 New Board Members, New Chairman
Tuesday, May 29, 2012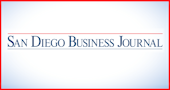 The San Diego Regional Economic Development Corp., the privately funded organization charged with attracting and retaining business to the area, named commercial real estate executive Stath Karras as its chairman on May 24, replacing outgoing chairwoman Debra Reed.
Karras, executive managing director at Cushman & Wakefield, was officially installed at EDC's annual dinner May 23 taking the title held by Reed, who is chief executive of Sempra Energy, for two years. Karras was the vice chairman at EDC for the past year and a board member since 2001.
In other news, the EDC announced 11 new board members: Joe Alfrey, chief financial officer at redIT; Phil Blair, CEO of Manpower; Robert Bruning, managing partner at Ernst & Young; David Cherashore, executive vice president, Evans Hotels; James Dawe of Seltzer Caplan McMahon Vitek; Jo Marie Diamond, president of the San Diego East County Economic Development Council; Cindy Gompper Graves, CEO, South County Economic Development Council; Bella Heule, CEO, World Trade Center San Diego; Linde Hotchkiss, managing partner, Willis Insurance Services of California; Jan Jackson, chair, San Diego North Economic Development Council, and E. Marie Landers, regional vice president, Wells Fargo Bank.
Those additions bring EDC's board of directors to 82 members, 51 of whom are elected. Ten are appointed by partner organizations such as the San Diego Regional Chamber of Commerce and Biocom, and another 15 are appointed to represent public agencies, which include both the city and county of San Diego, and the Port of San Diego.
The organization also includes past chairmen of the board, who are accorded honorary lifetime board status, according to an EDC spokeswoman.
In December, the EDC appointed Mark Cafferty as its new president and CEO. Cafferty, who took over the job in February, replaced Julie Meier Wright, who retired in June after 15 years in the position. Cafferty, 40, is the former president and CEO of the San Diego Workforce Partnership, the area's federally funded job training agency.