Our Military Role Serves Region and Country
Monday, May 28, 2012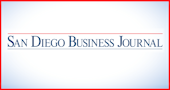 Mention that you live in San Diego to just about anybody who doesn't and, after the usual acknowledgement of our fabulous weather, beaches and natural beauty; the inevitable linkage to the military emerges. It's become almost impossible to think of our town without also conjuring up images of those majestic aircraft carriers, sleek destroyers, and stealthy submarines gliding in and out of our sun drenched harbor, or of the Marine Corps drill instructor welcoming new recruits as they step onto the "Yellow Footprints" at the Marine Corps Recruit Depot San Diego. And for good reason. As the springboard to the vast reaches of the strategically important Pacific and Indian oceans, it is the largest single military complex in the world, home to the largest number of ships in the U.S. Pacific Fleet and the United States Marine Corps' 1st Expeditionary Force, a bastion of military strength, and a powerhouse of regional economic stimulus.
As we continue to drawdown forces in the Middle East and witness the emergence of China as a Pacific power, and the continuing instability of North Korea, we can expect renewed focus on the Pacific theater. In addition, we can also anticipate an increase in the number of ships assigned to the Pacific Fleet. This includes return of USS Ronald Reagan as the second San Diego based aircraft carrier, with the third carrier expected to arrive in 2016. We will also see the addition of the first 8 of the newly designed and built Littoral Combat Ships and the reassignment of additional amphibious support ships to San Diego. As this buildup proceeds, and because of the already existing infrastructure in Navy and Marine Corps training, maintenance and fleet and aviation support facilities, San Diego will retain its prominence as the focal point of Pacific Fleet combat power for the foreseeable future.
The strategic value of the San Diego region cannot be overstated. It is currently home to 52,000 sailors based afloat and ashore at Naval Bases San Diego, Coronado and Point Loma and 55,000 United States Marines based at Camp Pendleton, MCAS Miramar, and the Marine Corps Recruit Depot. The Navy and Marine Corps employs 24,500 civilian employees engaged in high-tech engineering, logistics and contract management, and a wide variety of public works and base support functions. San Diego is also home to many families of active duty personnel and a large community of military retirees. The Navy Medical Center provides care to over 100,000 active duty and retired military members and their families and is home to approximately 500 wounded, ill and injured warriors undergoing treatment and rehabilitation for debilitating combat injuries — a mission area that has made San Diego a leading center for the development and fitting of prosthetic devices and associated physical therapy.
As impressive as this concentration of the Navy/Marine Corps combat power is, equally striking is the economic impact and the associated benefits that it delivers to the San Diego region. While cyclical economic activity tends to cause peaks and valleys to economies around the country, the continuous infusion of defense related dollars year after year to our area has lessened the effects of these cycles and contributed to the relative economic stability we enjoy. The San Diego Military Economic Impact Study annually commissioned by the San Diego Military Advisory Council, SDMAC, documents the highly significant impact of military spending in the San Diego region. SDMAC was founded in 2004 to support, promote, and represent the common business and other interests of the military, members' quality of life issues, and the defense industry community in the San Diego area by advancing the partnership and communication among the military, elected and appointed officials, and the business community. SDMAC's leadership, including Executive Director Larry Blumberg, assisted by its dedicated volunteers, routinely delves into such diverse issues as encroachment to military bases and infrastructure, environment and energy matters affecting the military. Veterans education and employment and the DOD budget are examined. Its membership numbers more than 140 corporate and 300 individual members.
Economic Picture
Believing that it is crucially important to highlight the impact of military spending in our region, for the past several years, SDMAC has pursued a continuing effort to document the economic impact that the military has on the San Diego community by producing what has become known as the San Diego Military Economic Impact Study. This study has become widely recognized as an authoritative, comprehensive and reputable source of information and is widely disseminated among senior military leadership. To produce this study, for the past several years SDMAC retained the services of a market research group affiliated with UC San Diego. Based upon extensive analysis of government statistical and financial data using an economic multiplier program, the 2011 San Diego Military Economic Impact Study, SDMEIS, calculated that for fiscal year 2009 (for which the latest finalized data was available) direct spending catalyzed $30.5 billion in economic impact and sustained approximately 355,000 jobs, accounting for more than 25 percent of regional employment, with earnings impact of $16.3 billion. It is notable that tourism, also an important component of the regional economy generated $15.9 billion in economic impact, approximately half that of military spending. The 2012 SDMEIS is being conducted under the auspices of Point Loma Nazarene University's Fermanian Business and Economic Institute under the leadership of Lynn Reaser. The 2012 study will be rolled out at the SDMAC monthly breakfast meeting on June 20, 2012. A news conference will follow the event.
Cuts Are Coming?
While the large concentration of Navy and Marine Corps assets in our region bodes well in the long run, there are storm clouds on the horizon. A critical issue that is of paramount concern is the potential "automatic cuts" to the Department of Defense budget starting in January 2013 that will be triggered by the Budget Control Act of 2011. These cuts commonly referred to as "sequestration" will amount to approximately $60 billion in fiscal year 2013. They will result in an additional 10 percent cut above the base DOD 2013 budget. Furthermore, these cuts are expected to be imposed across the board on each program, project and activity, thereby, affecting military operations, maintenance and procurement. Senior members of the Department of Defense, including Secretary of Defense Leon Panetta and Joint Chiefs Chairman General Martin Dempsey have publicly denounced sequestration and stated in no uncertain terms that, if implemented, it will seriously impact the DOD's ability to execute the defense strategy released by the president and the secretary of defense in January this year. Because defense spending is such a significant driver of the San Diego economy, accounting for more than 25 percent of local jobs and earnings, sequestration's effect in the region is equally undesirable. Cuts of this magnitude with the associated trickle down effects can be expected to have a serious impact on our region. SDMAC has been carefully tracking the 2013 budget process and notes that both the Democratic and Republican House versions of the budget contain provisions to address sequestration, however, it appears that neither of these versions is moving forward, creating even greater uncertainty. This remains an issue of highest priority for our elected officials, and in further pursuit of these concerns, SDMAC has contacted Sen. Dianne Feinstein and Sen. Barbara Boxer and all members of the San Diego County congressional delegation to express the imperatives of resolving this issue.
Looking forward to 2013 and beyond, SDMAC believes that the following are the most critical military priorities facing the region in the future:
Start and complete the construction of the new Navy Broadway Complex.
Ensure that San Diego remains the homeport for three nuclear-powered aircraft carriers.
Ensure that SPAWAR Headquarters, SPAWAR Systems Center Pacific, the Fleet Readiness Center Southwest, (Naval Aviation Depot on North Island) and MCRD are protected from any "BRAC" (Base Realignment and Closure), relocation or consolidation actions.
Ensure that our shipbuilding and ship repair industries remain viable and continue to grow.
SDMAC is committed to doing everything in its power to support these priorities and will remain engaged with our elected officials and other organizations to ensure that this vital sector of the San Diego economy continues to flourish and grow.
Ret. Rear Adm. James A. Johnson, Medical Corps, USN Retired is SDMAC's 2012 president. Visit: www.sdmac.org.