Reaction Design Finds Larger Quarters
Thursday, May 24, 2012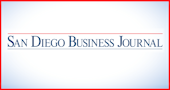 Reaction Design, a San Diego maker of software for the auto manufacturing industry, said it relocated to larger offices in Sorrento Valley to accommodate its growth and efficiency.
The announcement May 22 said Reaction is now located at 5930 Cornerstone Court West, Suite 230 where it has 5,800 square feet. The former address was on Lusk Boulevard.
Reaction CEO Bernie Rosenthal said the larger space allows for upgraded customer and employee interaction. Hughes Marino represented the firm in negotiating the lease, the company said.
The company develops simulation programs that allow better analysis of fuel effects in internal combustion engines. Among the firm's customers are Dow, Chevron, Ford, Honda, Mitsubishi, Nissan, Toyota, Suzuki, GE Energy, Conoco Phillips and Volkswagen, the company said.