ENERGY: HELIX NAME KEPT; ACQUISITION SAID TO BE BOON TO REGION
Sauer Purchases Assets of Poway-Based Wind Energy Firm
Monday, May 21, 2012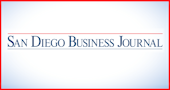 Compatible wind turbine companies are combining forces with the recently announced acquisition of Poway-based Helix Wind Corp. by Sauer Energy Inc. of Newbury Park.
Sauer Energy, publicly traded on the OTC Bulletin Board under the symbol SENY, purchased the complete assets of Helix Wind, which is now a division of Sauer Energy. The company says the Helix brand name and website will be retained due to its prominent global exposure and recognition.
The purchase for an undisclosed price was made using Sauer Energy common shares, according to a Sauer statement.
"We purchased only the assets, therefore there are no liabilities, no obligations or debt whatsoever to Sauer Energy," said Sauer Energy CEO and President Dieter Sauer.
Sauer Energy is developing the WindCharger vertical-axis wind turbine, an alternative to the large horizontal wind turbines that look like a giant fan clustered mostly on wind farms located in rural areas. The compact vertical-axis wind turbine, with turbine blades that revolve around a rotor that is in the vertical position, is touted for its ability to be integrated directly into existing buildings. The size advantage of the helical-shaped turbine allows it to be installed in structures as small as an office building or as large as a hospital.
Off the Grid
"Economically, on-site installations dramatically improve the return on investment of wind power, not to mention the rebates now in the offering," says the Sauer Energy website. "Power generated off-site, such as at wind farms, is still subject to transmission and distribution charges. Conversely, on-site solutions take a portion of the organizational power requirements 'off the grid.'"
Another difference is the level of wind speed needed to generate power. The vertical axis turbines provide omni-directional wind collection. The torque produced allows it to make power while turning at slower blade speeds. Advantages include the capability to produce power at lower average wind speeds, which means the systems don't have to be located on a hilltop or in coastal areas.
Of interest to Sauer Energy are Helix Wind's manufactured turbine models. Sauer Energy has enhanced its intellectual property portfolio with all of Helix's intellectual property, issued patents and patents pending, proprietary monitoring system and software. Sauer said the winning combination of WindCharger and Helix units offers a superior advantage over the competition.
"We propose to offer both the Helix and Sauer Energy product lines to give us an increased market placement in small wind," Sauer said. "A substantial advantage of acquiring Helix at this time is the availability of an additional revenue stream."
Small wind energy systems typically generate enough power to meet the demands of a home, farm or small business. They range from 400 watts to 500 kilowatts or more.
Boon to Region
Jennifer Jamall, communications director for CleanTech San Diego, said the acquisition of a small wind energy company is a boon to the region as a whole.
"It shows the market still has viability and diversity, particularly within wind energy in Southern California," Jamall said. "It's an encouraging sign for wind developers throughout North America, particularly as tax cuts for wind energy are in debate nationally."
Jamall added that the acquisition gives Helix Wind the opportunity to address more customer segments and expand its market strategy.
"I imagine that given both companies have strong bases in California, we'll continue to see large-scale and midsize wind projects in California," she said.
A Sauer Energy statement says Helix Wind turbines were formerly made in Asia, but the intent is to move those jobs to America with the ramp-up of operations.