SDG&E Lauds Green Energy, Clean Transportation 'Champions'
Monday, May 14, 2012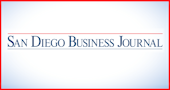 San Diego Gas & Electric Co. is giving credit for green practices by recognizing 13 local businesses as Energy Champions and three local organizations as Clean Transportation Champions.
The Energy Champions, who were honored for their energy efficiency and conservation during a May 9 awards luncheon at SDG&E's Energy Innovation Center in Clairemont Mesa, are Alexandria Realty, City of Chula Vista, Energy Curtailment Specialists, Hotel del Coronado, Ikea, Isis Pharmaceuticals, Lemon Grove School District, Qualcomm Inc., the Salk Institute for Biological Studies, the San Diego Convention Center, Siemens, UC San Diego and the U.S. Marine Corps. Collectively, SDG&E says these customers have saved more than 24.6 million kilowatt hours of electricity and more than 500,000 therms of natural gas, the equivalent of taking nearly 3,000 cars off the road.
The champions accepted their titles in advance of the seventh annual SDG&E Energy Showcase held May 11 at the Sheraton San Diego Hotel & Marina. The free event featured keynote speakers Jessie J. Knight, chairman and CEO of SDG&E, along with Ralph Cavanagh, co-director of the Natural Resources Defense Council's energy program, in addition to more than 75 exhibitors and vendors showcasing energy-saving technologies. Seminars addressed such topics as energy system innovations, the future of sustainable building design, and alternative fuel vehicle implementation and infrastructure. An alternative fuel expo also displayed plug-in electric, hybrid and compressed natural gas passenger vehicles and commercial trucks.
During the Energy Showcase the City of San Diego, Qualcomm Inc. and Car2Go were named Clean Transportation Champions.
"The city has been active in helping make San Diego a leading city in terms of adoption of electric vehicles," said SDG&E spokesman Art Larson. "They helped facilitate electric vehicle charging infrastructure and support programs such as Car2Go."
Larson said Car2Go's electric vehicle fleet has been a successful endeavor and their forward-thinking business model deserves recognition.
Qualcomm is counted among the Clean Transportation Champions because of its policies on electric vehicle charging in the workplace.
"They have been corporate leaders in terms of adoption and making electric vehicles an attractive alternative for their employees," Larson said.