ENERGY: SEMPRA, PARTNERS TO BUILD LOUISIANA FACILITY
Gas Export Plant in the Pipeline
Monday, May 14, 2012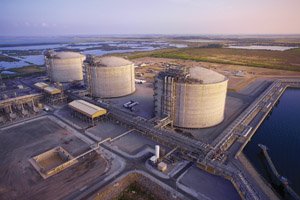 SEMPRA ENERGY
CEO: Debra Reed.
Revenue: $10 billion in 2011; $9 billion in 2010.
Net income: $1.35 billion in 2011; $739 million in 2010.
No. of local employees: 5,400.
Headquarters: Downtown San Diego.
Year founded: 1998.
Stock symbol and exchange: SRE, New York Stock Exchange.
Company description: Holding company for two regional utilities, San Diego Gas & Electric Co. and Southern California Gas Co.; and several subsidiaries, Sempra International and U.S. Gas & Power.
Key factors for success: Diversified business lines; conservative financial strategy.
With natural gas prices still hovering near record lows, and domestic storage tanks holding plenty of reserves, several major energy companies, including San Diego's Sempra Energy, are moving to export the commodity to places that need it.
The region's second largest company ranked by revenue announced last month a series of agreements struck with two Japanese and one French corporation to build a new exporting facility at Sempra's existing importing facility in Hackberry, La.
The cost of the project, estimated at $6 billion, may have caused more than a few eyebrow lifts, but it's the going rate for LNG (liquefied natural gas) plants these days, said Bill Cooper, president of the industry trade group, Center for LNG in Washington, D.C.
"Of the proposals that have been recently advanced, they're all running in the $4 billion to $6 billion range," Cooper said. "When you take into account all the engineering, all the permitting and the equipment itself, they can get pretty expensive."
To assist in the considerable capital outlay, Sempra struck equity partnerships on the project with three major entities: Mitsubishi Corp. and Mitsui & Co. Ltd. of Japan, and GDF Suez SA, a French energy firm with annual revenue last year of about 91 billion euros or $118 billion.
When the LNG facility is completed in 2016, the foreign partners will own half, Sempra the other half.
Construction Eyed for 2013
Octavio Simoes, president of Sempra Energy's LNG operations, said the costs for a project of this magnitude are steep but cheaper because the site already has an operating plant. "If we were doing it at a greenfield site, it might have cost $7 billion to $8 billion," he said.
Construction of the facility is planned to start in 2013 and take about three years to complete. When done, the site will consist of three "trains," an industry term describing the process of transforming the commodity from its gaseous to liquid form by gradually cooling it through a series of turbines and pipes. The process takes the temperature down to minus 260 degrees Fahrenheit, changing it to a liquid state so it can be transported in double-hulled tankers.
At its peak, the Cameron project will have about 3,500 construction workers, and when finished, create 130 permanent, high-paying jobs for Louisiana, and perhaps a handful more at Sempra LNG offices in downtown San Diego, Simoes said.
The economics of the export plant make sense given the prices natural gas is fetching in places such as Europe and Asia. Even adding the cost of changing the gas to liquid, called liquefaction, and shipping costs, the price for foreign buyers would be less than what many are paying today, Simoes said.
However, there are risks as prices change daily and other energy purveyors, recognizing the same supply opportunities, are also planning LNG export plants.
Export Trend
Houston-based Cheniere Energy Partners obtained a necessary permit to construct and operate a plant at Sabine Pass in Louisiana from the Federal Energy Regulatory Commission, and there are similar export plants being planned for Freeport, Texas, and at Cove Point in Maryland, Simoes said.
In addition to the FERC permit, the Cameron plant also needs a permit from the U.S. Department of Energy allowing the export to nations such as Japan and Spain that do not have free trade agreements with this country.
Mitigating the risks somewhat is the fact that Sempra's partners entered into 20-year agreements both to develop the export facility and negotiate 20-year tolling agreements to purchase the LNG once the project is completed.
Demand for natural gas has been growing in certain areas such as Japan especially following the earthquake and tsunami last year that shut down nearly all of that country's nuclear power plants.
Not that long ago, the United States was importing a lot more LNG from other regions, building receiving plants to handle the increased imports. Around 2003, energy companies began using advanced drilling methods to extract natural gas from shale formations in a process called "fracking."
"The shale plays were hugely successful and now we have astronomical amounts of supply that dwarfs our demand," Cooper said.
Simoes said the company announced that the new export terminal in Louisiana should generate annual after tax earnings between $200 million and $300 million once it begins operating.