ENERGY: SEMPRA, PARTNERS TO BUILD LOUISIANA FACILITY
Gas Export Plant in the Pipeline
Monday, May 14, 2012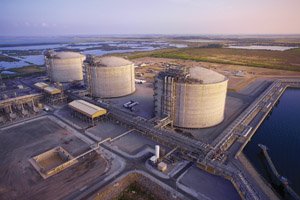 SEMPRA ENERGY
CEO: Debra Reed.
Revenue: $10 billion in 2011; $9 billion in 2010.
Net income: $1.35 billion in 2011; $739 million in 2010.
No. of local employees: 5,400.
Headquarters: Downtown San Diego.
Year founded: 1998.
Stock symbol and exchange: SRE, New York Stock Exchange.
Company description: Holding company for two regional utilities, San Diego Gas & Electric Co. and Southern California Gas Co.; and several subsidiaries, Sempra International and U.S. Gas & Power.
Key factors for success: Diversified business lines; conservative financial strategy.
With natural gas prices still hovering near record lows, and domestic storage tanks holding plenty of reserves, several major energy companies, including San Diego's Sempra Energy, are moving to export the commodity to places that need it...