BIOTECH: UC HOSPITALS HOST TOCAGEN CLINICAL TRIALS
Drug Combination Targets Brain Cancer
Monday, May 14, 2012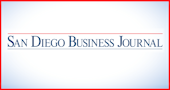 TOCAGEN INC.
CEO: Dr. Harry E. Gruber.
Revenue: Pre-revenue.
No. of local employees: 38.
Investors: Privately funded.
Headquarters: San Diego.
Year founded: 2007.
Company description: Tocagen Inc. is a clinical stage biopharmaceutical company pursuing the discovery, development and commercialization of gene transfer products for the treatment of cancer.
Key factors for success: The company is initially focusing on treatments for patients with advanced cancer for whom no adequate treatments currently exist. Toca 511 and Toca FC, the company's lead investigational combination product, is being evaluated in clinical trials in patients with recurrent high grade glioma (such as glioblastoma multiforme).
An investigational treatment for recurrent brain cancer developed by San Diego-based Tocagen Inc...