Sempra Reports Profit, Signs Deal With GDF Suez
Friday, May 4, 2012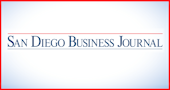 Sempra Energy reported first quarter net income of $236 million, or 97 cents per diluted share, down from $254 million or $1.05 per share for the first quarter of 2011, the company said May 3.
Revenue for the region's second largest public company in the quarter was $2.38 billion, down from $2.43 billion in the like period of 2011. Sempra changed its accounting treatment on its investment tax credits it gets for solar power projects and restated its 2011 results to reflect that change.
Sempra's two utilities each reported profits. San Diego Gas & Electric Co. reported net income of $105 million, compared with $89 million in the like period of 2011, while Southern California Gas Co. reported net profit of $66 million, compared with $68 million in the 2011 first quarter.
CEO Debra Reed said the company is on track to meet annual forecasted earnings of $4 to $4.30 per share.
In other Sempra news, the company said its Cameron LNG subsidiary signed a third and final commercial development agreement with GDF Suez Ltd. to develop a natural gas liquefaction export facility at Cameron LNG's terminal in Hackberry, La. In April, the subsidiary announced agreements with two Japanese entities, Mitsubishi Corp. and Mitsui & Co., to invest in the facility that is expected to cost $6 billion as well as 20-year exporting agreements.
The completed facility is expected to have a total annual export capability of 12 million metric tons of liquefied natural gas. Following regulatory approvals, Sempra said it anticipates construction will begin in 2013 and begin operating in 2016.