Lafayette Hotel Completes $4M Renovation
Friday, May 4, 2012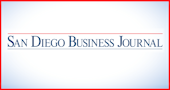 Operators of the historic Lafayette Hotel and Swim Club have completed a $4 million renovation of the San Diego property.
Representatives of owner Hampstead Lafayette Hotel LLC, designers, vendors and city leaders marked the completion at a recent ceremony. The 131-room property is at 2223 El Cajon Blvd., in the San Diego's North Park neighborhood.
The property underwent extensive renovation of its lobby and public areas, with the lobby's new interior designed by Anjum Razvi, with historic-looking furnishings from Home by Baja.
According to the City of San Diego, the renovation was assisted by a $2.45 million forgivable loan approved by the city's redevelopment agency in 2010. Officials said the project was expected to retain 50 jobs and increase transient occupancy taxes for the city.
Built in 1946, the hotel sits on approximately 3 acres and features a pool originally designed by actor Johnny Weissmuller, who starred in a series of "Tarzan" films.