AmericanWest Acquiring Security Business Bank for $26M
Wednesday, March 28, 2012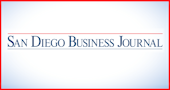 Security Business Bank, with about $233 million in assets and four branches, agreed to be acquired by AmericanWest Bank of Spokane, Wash., in a deal that values the local lender at $26 million, the companies said March 27.
About a month ago, when rumors were swirling that Security Business was talking with a buyer, CEO Paul Rodeno said the bank wasn't for sale.
This is the second acquisition by AmericanWest in San Diego. It acquired Sunrise Bank last year for about $18 million. Sunrise, a unit of Capital Bancorp of Michigan, was about the same size as Security Business, and had assets of $232 million and four offices.
At Dec. 31, AmericanWest Bank had total assets of $2.3 billion and about 70 branches in California, Washington, Idaho and Utah.
The deal, which will pay SBB shareholders an estimated $14.32 per share based on Feb. 29 accounting, for each common share, requires shareholder approval from SBB stockholders and bank regulators. It is expected to close in the third quarter, the companies said.