Biopharmaceutical Company Expects $7.75 Million From Public Offering
Tuesday, March 27, 2012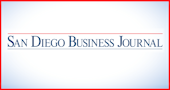 OncoSec Medical Inc., a San Diego-based biopharmaceutical company that's developing therapies to treat solid tumor cancers, expects to raise $7.75 million in gross proceeds through a public stock offering.
The company said March 26 that it agreed to sell to institutional investors 31 million shares of its common stock at 25 cents per share. Additionally, investors will receive warrants to buy up to 31 million more shares at an exercise price of 35 cents per share for a term of five years.
OncoSec intends to use proceeds from the offering for general corporate purposes, including costs related to clinical trials and research and development.
Rodman & Renshaw LLC, a subsidiary of Rodman & Renshaw Capital Group Inc., acted as the exclusive placement agent for the transaction. The offering is expected to close March 28.
OncoSec has developed minimally invasive cancer therapies that use electrical stimulation known as "electroporation" to significantly increase the entry of anti-cancer chemotherapeutic or biologic agents into cells of selectively targeted tumors and tissue.
These treatments destroy cancer cells while preserving healthy tissue. They optimize required dosage and potentially reduce treatment and post-treatment costs, the company said.