FINANCE: SBA REPORTS MICROLENDING IS FASTEST GROWING LOAN CATEGORY
Small Businesses Thrive With Help of Small Loans
Monday, March 26, 2012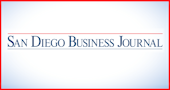 ACCION SAN DIEGO
Executive Director: Elizabeth Schott.
Chairman of the board: Gordon Boerner.
Annual budget: About $1.2 million.
No. of local employees: 11.
Headquarters: Southeast San Diego.
Year founded: 1994.
Mission of organization: To create increased income and jobs by providing small loans and business support services.
Microlending to businesses is on the rise. Last year, business loans of less than $100,000 were the fastest growing segment of business lending, according to this month's quarterly lending bulletin from the Small Business Administration.
Consider Brendan Rojas, who wanted to take his business, Auto Glass of San Diego, to the next level, renting space rather than operating from his garage. But without a loan, that wasn't going to happen.
Because he couldn't get a mortgage loan from a bank last year, Rojas didn't seek a business loan from a bank. Instead, he secured a loan from Accion San Diego, a nonprofit microlender.
"I honestly don't think we could have made it without that loan," Rojas said. "If we didn't get it, I'd probably have to borrow from my family."
The $20,000, six-year term loan Rojas received this year allowed him and his brother, Aaron, to fix up the small shop they share with an auto body business in the Grantville area of San Diego, and repair his trucks, advertise, and hire another technician.
Rojas' loan was among 23 microloans Accion made to borrowers in the first quarter, a 60 percent increase from its lending in the first quarter of 2011, the organization said.
"We're experiencing an increased demand and increased need," said Elizabeth Schott, Accion's executive director. "The economy at large is still seeing challenges, but we're seeing a lot of people who want to start their own businesses."
Financing for Startups
The problem for most entrepreneurs trying to get a business started is financing. Traditional sources such as banks are wary of providing credit to unproven businesses that may have little or no track record in a given industry. Also, most banks prefer to make larger loans, and avoid microloans, simply because the margins are so thin and the risks greater, many bankers say.
Schott said last year her group extended 98 microloans, up 9 percent from 2010. The loans were for an aggregate dollar amount of $1.13 million, up 18 percent over the total in 2010.
"A lot of them were startups without any former operating history, and some were without much of a credit history or had past credit challenges," Schott said.
Accion doesn't make loans to everyone, and borrowers with lower credit scores have to prove they are current in their payments before approval, she said.
They also need to have a basic business plan and should have some experience in the industry they are trying to get into, Schott said.
Among the popular businesses that got financing last year were restaurants and mobile food trucks, but there is a wide variety of enterprises, she said. The average loan last year rose to $11,600, compared with $10,700 in 2010. Terms and rates vary, but are usually higher than what borrowers could get from a bank (if they qualified), but well below what they would pay with credit cards.
Some local banks partner with Accion and other nonprofit organizations to make microloans, providing the capital for the lending. Accion also receives donations from corporations, foundations, local government, and individuals who have seen the positive results of making small loans to early stage businesses.
Larger banks such as Bank of America also do some microlending. Eligible borrowers are generally those that have been operating for at least two years and have minimum annual revenue of $250,000, said BofA spokeswoman Colleen Haggerty. Those falling short of those requirements can apply for a business credit card.
Working Cooperatively
BofA and other banks invest capital into nonprofits such as CDC Small Business Finance, which saw its microloans of below $50,000 decline to 59 loans worth $1.9 million, compared with 69 loans worth $2.1 million in 2010, according to Susan Lamping, CDC senior loan officer.
The organization saw a rise in 2010 caused by a spike in refinancing when many banks closed or termed out lines of credit, Lamping said.
The nonprofits engaged in microlending all work cooperatively with each other and often refer clients to each other, depending on the size of the loan and the borrower's experience, Schott said.
Accion San Diego received good news last week with the announcement of a $1.5 million commitment from NYSE Euronext, the operator of the New York Stock Exchange, that will be shared by two other groups aimed at helping young companies, the Entrepreneurs Organization and The Startup America Partnership. The funding will supplement Accion San Diego's current budget of about $1.2 million, Schott said.
On April 4, Accion and other groups doing microlending will gather for the fourth annual San Diego Microfinance Summit at the University of San Diego. The event features national industry experts, panels on pioneering microfinance models, and the impact of technology on the field.