FINANCE: SBA REPORTS MICROLENDING IS FASTEST GROWING LOAN CATEGORY
Small Businesses Thrive With Help of Small Loans
Monday, March 26, 2012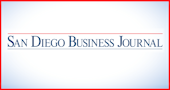 ACCION SAN DIEGO
Executive Director: Elizabeth Schott.
Chairman of the board: Gordon Boerner.
Annual budget: About $1.2 million.
No. of local employees: 11.
Headquarters: Southeast San Diego.
Year founded: 1994.
Mission of organization: To create increased income and jobs by providing small loans and business support services.
Microlending to businesses is on the rise...