WORKFORCE: CIVILIAN WORK EXPERIENCES HELP WITH NEXT CAREER STEP
Initiative Gives Military Members a 'Transition Team'
Monday, March 26, 2012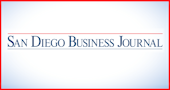 When Tyler McConnell leaves the military next month he'll be among the fortunate ones having a plan of action for starting a civilian life. That's because the 22-year-old corporal E4 at Marine Corps Base Camp Pendleton recently participated in the Carlsbad Chamber of Commerce's Military Mentoring Initiative, Boots in Business.
Conceptualized two years ago as an extension of the work the chamber was already doing with the Wounded Warrior Project and the base's Military Outreach Ministry, the program helps active duty military and their spouses prepare for civilian employment through job shadowing and mentoring opportunities.
Carlsbad Chamber of Commerce President and CEO Ted Owen says Boots in Business is different than job fairs in that it allows the participants to "test-drive" positions to see if they're a good fit. Although the participants are not promised a job, they can get inside information such as whether they're on the right educational track, and several participants have been hired through the program since its launch in November.
"These people are pretty much fearless about personal safety. They feel very confident in that ability," said Owen, who claims that about 50 companies and a like number of Marines are active in Boots in Business. "But they don't feel confident talking with the HR director."
The 30-Day Job Project
The program is flexible for the mostly 18- to 24-year-olds who sign up, says Owen, who explains that multiple jobs may be tried out at various companies for up to 30 days.
McConnell spent his time in the program job shadowing at seven local sites: Tri-City Medical Center, Datron World Communications, TaylorMade Golf, La Costa Resort and Spa, Sysintelli, Productive Computing, and the Carlsbad Unified School District. The motor transport mechanic, who worked on Humvees and cargo transports while serving in the military, says he solidified his decision to enter software programming as a career after his experience job shadowing at information technology departments and trying out network administration and tech support.
"I learned that this is definitely what I want to do," McConnell said. "I think everyone should be required to do this, with how much help it was."
McConnell says he learned about Boots in Business while attending a Transition Readiness Seminar offered through the Camp Pendleton Marine and Family Program Division, which does eligibility screening for Boots in Business and helps sailors and Marines write their resumes.
Madonna May, the military mentoring initiative manager, says as many as 180 service members attend the Transition Readiness Seminar each week and that number may be increasing to 200 to 250 soon. She connects qualified applicants to the companies, which are not charged a fee to participate.
From the outset, she establishes a personalized, meaningful itinerary with the Marine, sailor or spouse who is participating, and in closing she helps the person create a LinkedIn page so the participant can continue networking with the people who have been mentors.
Corporate Support
In between, the service members are mentored by individuals such as Kevin McQueen, a pulmonary services operations manager at Tri-City Medical Center. McQueen helped supervise six military members who were interested in careers in the health care field. While shadowing, the participants met with nurses, radiology and lab staff, and visited the emergency department, to get exposure to the hospital.
"It's been 100 percent positive," said McQueen, who describes it as evolving into a solid and highly effective program. "This is an excellent opportunity for any business to give back to the military."