Fabric of Success
Monday, March 26, 2012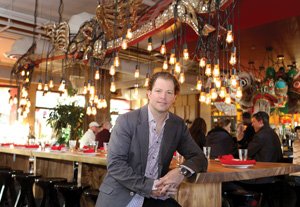 Enlightened Hospitality Group LLC was trying to figure out a name for its new Gaslamp Quarter restaurant in 2010, when celebrity chef and co-owner Brian Malarkey remarked that his busy schedule had kept him away from one of his favorite local haunts: the Del Mar racetrack.
"Brian realized an entire season had gone by and he hadn't been to the track," recalled co-owner and Enlightened CEO James Brennan. "And he says, 'I didn't even get to break in my seersucker suit this year.' "
The variant Searsucker became the name of the co-owners' first upscale eatery, and the popular restaurant was joined last year by Burlap in Carmel Valley. This year, the company debuted Gingham in La Mesa and Gabardine in Point Loma.
In early May, Brennan said, the company's next restaurant will debut in La Jolla under the name Herringbone, serving seafood "with a Mediterranean twist" and Italian influences. And by October, Enlightened plans to open its first location outside of San Diego County — a second Searsucker planned for Scottsdale, Ariz., serving a classic American style menu.
Brennan, a veteran of several past local nightclubs and still majority owner of downtown's Stingaree, said Enlightened is now focused primarily on what will eventually be a national rollout of a restaurant concept touting a "fabric of social dining."
Ambitious Plans
The company plans to debut approximately three restaurants a year through 2017, by which time it expects to have 18 to 20 eateries up and running, with a beachhead on the East Coast. It is scouting sites in Palo Alto and other Northern California locations for 2013 openings, and aiming to move into Texas in 2014 and 2015.
Menus and other elements vary by location, but the firm's restaurants are configured to capitalize on ingredients that, the owners report, helped Searsucker garner $8 million in sales its first year, and approximately $11 million in its second.
The eateries encourage social interaction among patrons, and between patrons and staff. Large bar areas are placed in the middle of dining rooms, not tucked away in a quiet corner. There are comfortable chairs and sofas in lounge areas, and diners can look on as open-view kitchens become part of the festivities.
Music and lighting at Searsucker, for instance, are recalibrated throughout the evening to match the mood of the crowds, and the restaurant, in a sense, morphs into a nightclub as the hours pass.
"The goal for me was to have a place that was like going to someone's home for the ultimate dinner party," said Brennan, who worked in mortgage financing and commercial real estate investment before delving into the night-life business. "It tends to be a little noisy, but it's also a reflection that it's a fun place to be."
Celebrity Chef a Plus
Kevin Higar, a research director with restaurant industry consulting firm Technomic Inc. in Chicago, noted that despite an intensely competitive restaurant climate in a recuperating economy, there are elements working in favor of the expansion of regional companies like Enlightened.
Consumers are increasingly comfortable with all sorts of flavor profiles, thanks in part to a proliferation of TV cooking shows, which often encourage diners to seek out new cuisines. Having a celebrity chef involved also helps build a restaurant brand and cut through competitive clutter, Higar said.
Oregon native and longtime San Diego resident Malarkey, for instance, first appeared on the Bravo TV show "Top Chef" in 2007, and remains a regular on the national book and talk show circuits.
"The celebrity chef is literally achieving rock star status these days," Higar said. "Fifteen years ago, consumers didn't necessarily think of what skill set was required to put that plate in front of them in the restaurant.
"Now there are many who are very intrigued by the back story, skill, and personality of the person creating these dishes," he added.
Among the challenges is that restaurateurs may need to adjust menus because of subtle taste preferences from region to region.
Consistency Counts
"Consumers work hard for their money, and you can get them in the door once with star power, but ultimately they want consistent bang for their buck," Higar added. "This means an acceptable combination of price and all those other culinary, atmosphere, hospitality and service elements."
Brennan said Malarkey's planning and conceptual skills extend well beyond the kitchen, and the company is also capitalizing on a real estate climate where it has been able to find good locations — often vacated by other restaurants and retail companies — at low leasing rates that help minimize overhead.
The average dinner bill at the restaurants is around $50, but Brennan said the social dining concept makes sense at a time when people are being strategic with their entertainment dollars. Guests who come to dine at the restaurants often stay for the full evening because of the atmosphere.
"People aren't going out a few times a week anymore; maybe they're only going out four times a month," Brennan said. "So if that's the case, we offer consistency. People don't have to wonder if they're going to have a good time if they come to Searsucker — they know they'll have a good experience every time."