HOSPITALITY: AREA IS A MAJOR BUSINESS CENTER, WITH CONVENIENT AIRPORT
North County Hotel Is Spot on in Its Choice of Location
Monday, March 19, 2012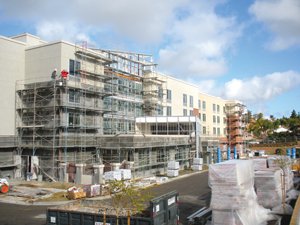 If location counts most in real estate, operators believe they've picked the ideal spot for the corporate-focused Hyatt Place hotel under construction in Vista and set to open this summer.
The 150-room hotel, representing Hyatt Corp.'s relatively new midpriced brand targeting business travelers, is taking shape off Melrose Drive near the city's border with Carlsbad.
Hotel General Manager Wes Lavender notes that its neighbors include two of North County's largest business parks — Vista Business Park and Carlsbad Oaks — and the venue is not far from McClellan-Palomar Airport, among the county's biggest hubs for corporate aircraft.
The potential for attracting customers could grow, he notes, if the Carlsbad airport gets proposed new commercial flights later this year.
"There are 800 companies in the Vista Business Park alone," Lavender said. "It's going to benefit us if the airport takes on a higher profile as a service destination."
Market Challenges
Alan Reay, president of Irvine brokerage and consulting firm Atlas Hospitality Group, said Hyatt Corp. has been building the Hyatt Place brand during the past two years through several regional developers. There are currently about 160 locations nationwide.
He said the Chicago-based hotelier faces considerable challenges penetrating the increasingly popular midpriced-corporate hotel market, with nightly room rates around $100 to $200. The segment is currently dominated by brands including Hilton Garden Inn and Courtyard by Marriott.
The hotels are popular for their business-oriented amenities and pricing that is accessible for smaller companies, Reay said, and also because frequent-stay loyalty program points usually go to the traveler, even if the employer is footing the bill.
"In most cities, there is a Marriott or Hilton property in that price range," Reay said. "That's not necessarily the case right now with Hyatt — it's a very, very competitive segment."
However, Reay said there also are several factors running in favor of the Vista location, including San Diego County's steadily improving hospitality climate and a diverse local economy.
He also pointed to the experience of the Vista property's developer, San Francisco-based ABA Development LLC, and its operator, Rim Hospitality of Newport Beach. "They're both solid companies with very good track records," Reay said.
Reay said ABA has had success with a Hyatt Place that it opened in 2010 in Roseville, and it was able to get both of the new Hyatt properties financed and built in relatively quick succession considering the otherwise tough climate for construction lending.
The Carlsbad market, he noted, has recently shown strong momentum for new hotel construction by various developers. Current projects include the 215-room Hilton Carlsbad Oceanfront Resort & Spa, set to open in July near Carlsbad State Beach, and Legoland California's on-site, 250-room hotel, expected to open in summer 2013.
High-Tech Room Services
Lavender said the new Hyatt Place will have 1,500 square feet of meeting space with high-tech media capabilities, a 24-hour business center with computer stations, and free high-speed Wi-Fi in all guest rooms.
Each guest room is also equipped with a state-of-the-art media center, allowing devices to plug into the 42-inch, high-definition TV, replicating a workplace experience.
There will be a guest kitchen, on-site bakery-café, and a full fitness center. Gallery hosts, with duties similar to a concierge, will be assigned to attend to individual guests.
"If the schedule allows, that person who checks you in is going to be in contact with you for most of your stay," Lavender said.
Hyatt Corp. recently reported that its Select Service division, which includes the Hyatt Place and extended-stay Hyatt House brands, has seen 14 percent growth in revenue per available room over the past two years.
In addition to expanding the Hyatt Place brand, the hotel company is remodeling and rebranding 20 U.S. properties that it purchased last year from LodgeWorks LP, which included locations of Hotel Sierra and Avia Hotel.
It is in the process of rebranding all of its extended-stay Hyatt Summerfield Suites hotels, geared primarily to recreational travelers, to take the Hyatt House name.