URBAN PLANNING: MORE LANES, ROADS AND OPTIONS ARE PROVIDED BY SANDAG
Agency in the Driver's Seat For Improving Traffic Flow
Monday, March 19, 2012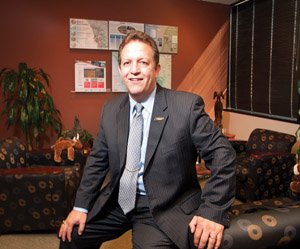 Navigating San Diego's often clogged freeways can be challenging, but thanks to significant investments by the regional transportation planning agency, things are better than before.
So says Gary Gallegos, executive director of the San Diego Association of Governments, a public agency that divvies up federal and state tax dollars to myriad of highway projects.
"I think we've made some good progress over the past year," Gallegos said. Among the biggest accomplishments was finishing the eastern terminus of state Route 52 that connects to state Route 67 and starts in La Jolla on the west end. The project took decades to complete because a good portion of it required buying properties.
The last 3.5-mile stretch between SR 125 and SR 67 cost about $520 million and was completed in March.
Versatile Solutions
Another major project Gallegos cites as making a huge difference in alleviating traffic congestion is adding two managed lanes in each direction on Interstate 15 between Kearny Mesa and state Route 163 and Escondido. That project also had to be done in phases, and was just completed in January. The improvements, which cost $1.4 billion, give planners the ability to increase lanes to accommodate heavier traffic, Gallegos said.
Perhaps the most publicized project and one the Sandag board studied deeply was the acquisition of the SR 125 toll road from Lemon Grove to the U.S./Mexico border.
The road was built by private parties and opened in 2007, just as the recession was getting started, a situation that caused riders to avoid using it, and resulted in the South Bay Xpressway LLC filing for bankruptcy in 2010. In December, Sandag acquired the 10-mile road for $345 million, a fraction of what that road would cost today, Gallegos said.
Sandag plans to reduce the tolls to attract greater use. That would reduce the planned expansion of Interstate 805 from two managed lanes to one in each direction, he said.
An additional key project now under way is SR 905, a 6.4-mile freeway connecting Interstate 805 to the Otay Mesa border crossing. The first segment opened in late 2010, and the second should be done by September; the entire cost for the project is $607 million, Sandag said.
The road replaces Otay Mesa Road which was a particularly treacherous one to navigate because of all the heavy truck traffic, Gallegos said.
Continuing in the South Bay, Sandag is working on SR 11, a four-lane road that will connect to SR 905 and the SR 125 and provide much better access to a new port of entry at Otay Mesa that is on the drawing boards, and will relieve some of the backups at the current border crossing located two miles away.
This road, which will cost about $400 million, is being financed with tolls, and is expected to be done by December 2015, Sandag said.
By implementing tolls, the region will get the improvements much quicker than having to wait for the federal and state governments to budget for this project, Gallegos said.
On Track
On the mass transit side, Sandag is working on an overhaul of the San Diego Trolley, including rebuilding the Orange and Blue lines, at an estimated cost of $717 million. Among the improvements are new low-floor trolleys, station platforms, signage, shelters, tracks and switches, Sandag said. Estimated completion is 2015.
Another huge project now under way is the Mid-Coast Corridor Transit Project, a new light rail line extending from Old Town to University City. The estimated cost is $1.7 billion, and it's slated to begin in 2015 and be completed by 2018.
Asked why more isn't invested in mass transit to induce more people to give up driving their cars, Gallegos said Sandag's philosophy isn't to force people to act in a certain way, but to provide choices so they can make their own decisions. He said the agency "is spending as much money today on mass transit as we are on roads."
Will all these projects eliminate traffic jams?
Not really, says Gallegos. "I'm not sure we can solve traffic congestion. What we're trying to develop is a transportation system that will help us manage the congestion."