Car2Go Gives 100-Day Update: 6,000 San Diego Members
Monday, March 12, 2012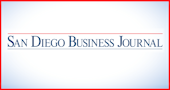 More than 6,000 people in San Diego have signed up for the all-electric car-sharing service Car2go, which launched its 300-car fleet locally in November, the company said in an update March 9.
Car2go North America LLC, a subsidiary of Daimler North America Corp., gave a snapshot of its operations in the first 100 days since it opened for business in San Diego.
The company said members have made more than 25,000 trips in the tiny emissions-free cars, with a current average of 3,500 trips per week. The average trip lasts between 15 and 30 minutes, and the average distance driven in a Car2go is between 5 and 10 miles.
The "on-demand" rental service is designed to complement public transportation by bridging the gaps commonly associated with the first and last mile of a public transit commute.
"At a time when the cost of fuel is reaching record-high prices, San Diegans are looking for ways to reduce their dependence on fuel and for more cost-efficient modes of transportation," Nicholas Cole, president and CEO of Car2go North America, said in a statement.
Members can locate cars on the street using a website, call center, or a smartphone app.
Unlike traditional car-sharing, members can start their trip spontaneously or reserve a vehicle up to a day in advance without committing to a return time or location. When they're finished, they can park the car anywhere within the operating area. Rates start at 35 cents per minute.
— Kelly Quigley