FINANCE: OUTLOOK FOR REGION IS POSITIVE, SAYS LOCAL DISTRICT DIRECTOR
SBA Loan Numbers Solid, But Well Off Last Year's Pace
Monday, March 5, 2012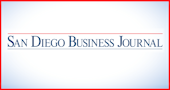 Lending guaranteed by the U.S. Small Business Administration in San Diego is down 40 percent in dollars this year compared with the end of January in the prior fiscal year, but that's because of the record setting numbers registered in 2011, say government officials and bankers.
Through the first five months of the 2012 fiscal year, which began in October, the local SBA district reported that banks made 189 SBA loans for nearly $94 million. That compared with 284 loans for $156 million in the like period of 2011, according to the most recent SBA report.
Ruben Garcia, the SBA San Diego district director, said there's been "a gigantic drop-off" in lending, but that's because last year's numbers were so high due to the incentive programs the agency put in place in 2010.
To help spur the recovery, the government changed several provisions on the SBA lending programs, including increasing the guaranteed portion of the loan to 90 percent from 75 percent, and eliminating origination and other fees charged to borrowers. Those changes, which expired at the end of 2010, caused a huge uptick in borrowing for the 2011 fiscal year, Garcia said.
Local banks making SBA loans are still fairly busy this year, and lending is returning to where it was before the recession took hold, he said.
"The outlook that I have for San Diego is positive," Garcia said. "We're starting to return to the healthy loan levels that we had before the recession."
Although there were reports from the SBA that the 2013 fiscal year budget could be reduced, several participating lenders say those reductions will have no impact on their operations.
$16 Billion Is Enough According to the SBA, the allocation in the next budget cycle for the 7(a) program will decrease from $17.5 billion to $16 billion. The 7(a) program is the most common type of SBA loan and can be used to purchase a building or equipment, or for working capital. "I don't see $16 billion being a problem at all," said David Bartram, executive vice president of Seacoast Commerce Bank and head of its SBA division. Next fiscal year's SBA budget contains more money to subsidize the program because of an increasing number of loans that defaulted during the recession years, Bartram said. In terms of Seacoast business, it's on track to beat the numbers it had in the past fiscal year, Bartram said. For the year ended Sept. 30, Seacoast made 204 loans for $151 million, compared with 142 loans for $92 million in the prior fiscal year. Seacoast, which is based in Chula Vista and has $150 million in assets, added three new SBA loan production offices in recent months, in Las Vegas, Salt Lake City and San Ramon, bringing its total to 10. The bank makes more than half its SBA loans in California, but has also seen good business in Texas in the past year. In San Diego, originations are down this year mainly because this market has so many banks making SBA loans, Bartram said.
Last Year an 'Anomaly'
Kurt Chilcott, chief executive at CDC Small Business Finance Corp., a nonprofit that partners with banks on SBA 504 loans, said the number of this fiscal year's loans will come in lower because of the government incentives that expired.
"Last year was an anomaly created by these additional programs that made the loans more popular with both the banks and small businesses," Chilcott said.
In the 2011 fiscal year, CDC Small Business Finance reported that it participated in 503 SBA loans used to purchase business owner-occupied real estate for total financing of $737 million. That compared with 438 of those loans, made through the SBA 504 program, for $771 million in the 2010 fiscal year.
Chilcott said the SBA instituted a commercial refinancing program last year that continues to gain traction with business owners. The program allows businesses that are at least two years old and facing a balloon payment on their loan to refinance debt at a lower interest rate.
Like several others engaged in SBA lending, Chilcott said even if the 2013 fiscal year budget for the agency is reduced, there will be plenty of funds for the level of borrowing that's anticipated nationally and locally. Perhaps a more challenging issue facing the agency and SBA lenders is just getting a budget for the SBA passed by Congress.
If it doesn't pass, then the SBA would have to arrange some type of partial funding to keep the loan programs operating until final funding is approved, he said.