HOSPITALITY: NUMEROUS LOCAL CRAFT BREWERIES EXPANDING THEIR OPERATIONS
GROWTH ON TAP
Monday, March 5, 2012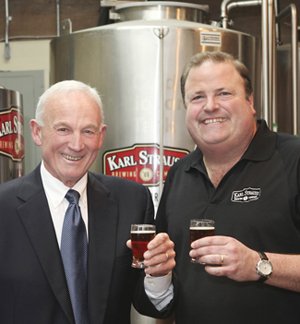 San Diego County's unrelenting expansion of its craft beer industry isn't flattening anytime soon.
Marty Mendiola, president of the San Diego Brewers Guild trade group and a senior brewer at Rock Bottom Brewery in La Jolla, says in the past year that it seems like every established local brewery is adding tanks and tasting rooms, moving to larger spaces, or diversifying into new business ventures.
Among the more notable expansions are Ballast Point, Green Flash, Coronado Brewing, Alesmith Brewing, Mission Brewing, Karl Strauss, and Alpine Brewing, he says.
Stone Brewing, the region's largest craft brewer, is in the middle of a $50 million expansion that includes opening a satellite brewery in Liberty Station, an already opened bottle shop in South Park, and a boutique hotel next to its Escondido headquarters.
"There's got to be a saturation point sometime, but I don't think we're close to it yet," Mendiola said.
All the activity is creating jobs, ones that didn't exist even five years ago, and helping put people back to work, says Mayor Jerry Sanders.
"We think they're building a critical mass here," Sanders said. "These are good businesspeople, but they're also scientists and great entrepreneurs … Not only are they creating good jobs, they're creating more tourism … and that's really good for us."
Rapid Growth The proliferation of breweries, restaurants and bars that specialize in craft beers is happening so quickly, industry leaders can't be sure of exact numbers. The county is home to 46 breweries operated by 36 brewing companies, but some companies operate multiple breweries such as Port Brewing and Karl Strauss. Combined with that are beer pubs (the guild counts 33 "pub allies," its term for pubs that are members of the group) and a relatively new category called nanobrewers. Mike Hess puts his self-named brewery firmly in that category. The brewery can make 1.6 barrels at a time, or about 50 gallons per batch. Virtually all the beer Hess makes he sells at the Miramar brewery in one- or two-liter growlers, or bottles. Launched in 2010, Hess did 70 barrels in the fourth quarter and is on track for 80 this quarter. In contrast, Stone produced about 148,000 barrels last year, and should hit 180,000 barrels this year, says co-founder Greg Koch. Hess plans to greatly increase production in August, when he moves into a 30-barrel brew house, tasting room and cannery in North Park that will employ 15 more people. Hess raised $1.5 million from private investors for the project, which he expects to produce about 3,000 barrels in the first year of operation. The appetite for locally made, craft beer continues to rise as more beer drinkers try beers made with more intensity and real flavor, say brewery people. "Consumer taste preferences are changing and they're demanding more … higher quality beer," said Melanie Gordon, co-founder of Tap Hunter.com, an Internet marketing business that helps consumers find craft beer through a smartphone application.
Compatriots, Not Competitors Beyond just making better tasting beer, craft brewers are genuinely collaborative folks, who aren't as focused on competing as much as cooperating, says Koch, who launched Stone in 1996. "We tend to be more compatriots than competitors," he said. The industry continues expanding at the expense of mass produced beers from the likes of Anheuser-Busch InBev and SABMiller, the world's two largest beer makers. According to the Boulder, Colo.-based Brewers Association, the industry's trade group, in 2010, the most recent statistics available, overall U.S. beer sales fell 1 percent, but craft brews grew 12 percent by dollars, and 11 percent by volume. Dollar sales of craft beers reached an estimated $7.6 billion in 2010, up from $7 billion in 2009. However, craft beer's share of the overall U.S. beer market was still only 6.9 percent in 2010 in dollars and 4.3 percent in volume, the association says. Breweries seemingly can't keep up with consumers' demand, say some brewers. "We've become victims of our success, and we can't keep up with the demand, so a lot of us are trying to meet that demand by expanding our capacities," said Jack White, founder and chief executive at Ballast Point. The brewery is doubling its capacity to 60,000 barrels this year, a move that will cause the hiring of 10 workers to bring its total to 60, White says. Karl Strauss, one of the county's first craft breweries when Chris Cramer and Matt Rattner launched operations in 1989, says it will soon announce its seventh brewery in an undisclosed location in the county, adding 90 more jobs. It now has 454 workers, including 338 locally. Stone is about the same size, with 431 employees, and 40 openings.
Tourist Attractions
In addition to direct employment through breweries, bars and restaurants, new jobs are being created in related fields like tourism.
Koch says his brewery and bistro is the third most visited site in North County, behind only the San Diego Zoo Safari Park (formerly the Wild Animal Park) and Legoland California. To accommodate the rising tide of visitors, Stone is building a 40- to 50-room boutique hotel, next to its headquarters, which could open in 2013.
Visiting breweries has gotten so popular, there are several tour companies focused exclusively on the activity. Jon McDermott, co-owner of Brewery Tours of San Diego, says he started the business five years ago with a used bus. Today, he has three buses and a van, with six employees, and openings for three drivers. Last year, he and wife Mindy launched Bay Area Brewery Tours, which has two staffers.
Gordon says that counting direct and indirect employment at supporting businesses such as White Labs, a local provider of yeast, and distributors, the industry could easily be at 5,000 people. "My latest count was 44 breweries, with eight more on the way," she said. "Can we sustain 52? I think we can."