Novatel Wireless Sees Profits Decline as Revenue Rises
Friday, March 2, 2012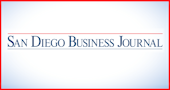 Novatel Wireless Inc. reported a net loss of $24.9 million on revenue of $402.9 million for its 2011 fiscal year. Revenue increased 19 percent from $338.9 million in fiscal 2010. Net loss for 2010 was $33.5 million.
Novatel makes wireless devices which use second-, third- and fourth-generation cellphone technology. Each successive generation of technology is able to move greater volumes of data faster.
For the current quarter, Novatel said it expects revenue in the range of $85 million to $110 million. The company said it plans to expand its line of MiFi intelligent mobile hotspots during 2012.
Novatel's Nasdaq symbol is NVTL.
— Brad Graves