Plenty for Businesses to Mull After High Court Rules
Friday, June 29, 2012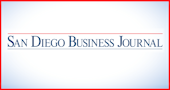 The Supreme Court's 5-4 decision upholding President Barack Obama's Affordable Care Act includes the mandate requiring nearly all Americans to buy health insurance.
Framed as a tax, those required to buy health insurance under the law but who choose not to must begin paying the new tax in 2014.
George McGregor, general manager of the Voluntary Employee Benefits Association in Mission Valley, said large employers with 50 or more employees could be impacted by an overall increase of between 12 and 20 percent for costs associated with providing health care coverage. In the short term, there could be compliance costs for businesses that waited for the Supreme Court decision before complying with the law.
"Now they're scrambling to figure out what they need to do to restructure their insurance plan to comply with the requirements of health care reform," said McGregor, whose nonprofit trust represents employees of 40 local school districts and their dependents. "The law contains some pretty severe financial penalties for employers that don't have affordable plans that meet the minimum benefit requirements under the law."
By 2014, McGregor said large employers either can choose to give their employees a $3,500 voucher for the California Health Insurance Exchange in lieu of providing benefits or find a plan that meets the minimum benefit level and doesn't require too much in the way of a contribution from the employees.
McGregor said some businesses have already experienced cost increases with the rule that children be allowed to remain on their parents' insurance policies until age 26. The rule was implemented with the first plan year starting after Sept. 23, 2010.
"Our employers saw a one and a half to 2 percent increase in costs for the additional coverage," he said.
Mark Perlberg, president and CEO in the San Diego office of professional employer organization Oasis Outsourcing, said impacts may be minimal on businesses that already provide health insurance to their employees for strategic and competitive reasons, but their plans may not necessarily be consistent with the plans required under the law. There may also be filing or data requirements, such as providing information about employee numbers.
"A lot of those details haven't been worked out yet, but that's what the law contemplates," Perlberg said. "Businesses will have to stay abreast of how it's going to work, whether the plans they're providing are the right plans. They're going to need to be working with somebody who can help them work through that."
Although penalties are based on the size of a business, Perlberg said large employers that don't offer health insurance coverage typically would pay a $2,000 fine for each employee.
"You're talking about a 2014 provision," he said. "I think there's going to be a lot of changes between now and then. … A lot of people believe there will be changes in the numbers and effective dates because a lot of places are not ready to go through with this — compliance and recordkeeping."