Vista Brewery Opens Tasting Room
Tuesday, June 26, 2012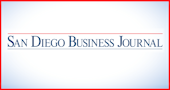 Mother Earth Brew Co. recently opened a new tasting room and adjacent home-brew retail equipment shop in the downtown section of Vista.
A craft brewer that launched in 2010 in the south part of the city with a 10-barrel system is using the expanded site at 206 Main St. for a tasting room for its beer. Next to the tasting room at 204 Main St., it's operating a supply store with all the ingredients and equipment home-brew makers need, including hops, grain, yeast, malts and food grade containers.
The city is home to six breweries and one winery.
Mother Earth Brew Co. sells mainly craft brew bars and restaurants but plans to install a seven-barrel brewing system at the new site, said owner Daniel Love, who is also the master brewer. The business, which is on track to do about 1,000 barrels this year, continues to brew at its original location at Thibido Road. Love said the new outlets created seven new jobs at the downtown site, bringing the total for the business to 14.