INNOVATION: AIRSTRIP TECHNOLOGIES SELECTED AMONG MANY SUITORS
Palomar Health Licenses App For Doctors Remote Access to Data
Monday, June 25, 2012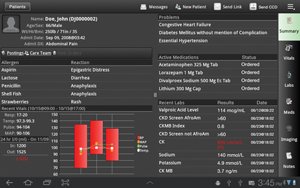 PALOMAR HEALTH
President, CEO: Michael H. Covert.
Patient net revenues: $490 million (2011).
No. of local employees: 4,000.
Headquarters: Carmel Mountain Ranch and Escondido.
Year founded: 1933.
Description: Palomar provides a full spectrum of health services, including state-of-the-art hospitals, birth centers, rehabilitation and long-term care centers, and home health care and hospice services.
Mission: To heal, comfort, and promote health of North County residents.
Key factors for success: Regarded by patients, physicians and employees as the health system of choice; and recognized nationally for the highest quality of clinical care and access to comprehensive services.
Palomar Health has selected San Antonio-based AirStrip Technologies to develop and market the San Diego health system's smartphone app that allows physicians to view their hospitalized patients' electronic medical records at anytime and anywhere...