MEDICINE: IT OFFERS ALTERNATIVE TO ORAL DRUGS, GIVES DOCTOR CLEAR VIEW
New Pain Treatment Brings Accuracy in Dosage, Delivery
Monday, June 25, 2012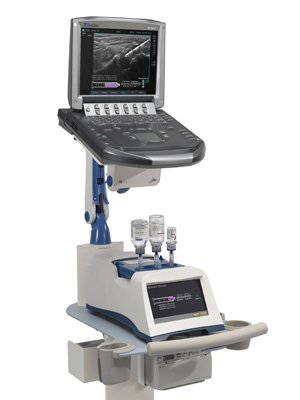 A relatively new FDA-approved device is giving Dr. Benjamin DuBois a more efficient, targeted way of delivering medication for pain-relief in his patients' joints.
The orthopedic surgeon at Grossmont Orthopaedic Medical Group in La Mesa says he's treated a couple hundred patients with the Navigator Delivery System since he began using it about four months ago.
Given 510(k) clearance by the FDA in October 2011, the Navigator DS facilitates the treatment of pain in shoulders, knees, hips and any joint as an alternative to administering oral pain medication, which may be addictive or cause side effects such as nausea, liver failure and stomach ulcers.
The Navigator allows doctors to inject corticosteroids and anesthetic agents directly into the joint space. It is used in tandem with an ultrasound screen that provides the physician with real-time visualization of the needle position, fluid delivery process and prescription volume.
There's a great need for improved accuracy of local injections. Musculoskeletal injuries, including arthritis and sports-related injuries, affect more than one out of every four Americans, according to the American Academy of Orthopaedic Surgeons. And arthritis is the leading cause of disability in the U.S., with more than 46 million Americans having doctor-diagnosed arthritis, according to the National Center for Chronic Disease Prevention and Health Promotion.
Dosage Delivery
As opposed to having a nurse or medical assistant mix up the injectables in a syringe, the Navigator holds in place three injectables and uses a computerized system that automates the dosage. The Navigator's push-button screen allows the doctor to select the quantities of drugs to be administered and then mixes them appropriately.
"I can do it independently and the assistant can be off doing something else," said DuBois, who has been in practice for eight years. "It frees up my medical assistant to keep my office flow moving."
Using an ultrasound machine probe in one hand and a needle in the other hand, a physician can see how much volume of drug has been mixed together on a screen and then uses the ultrasound guidance system to administer the pain medication directly into the affected area using a foot pedal.
DuBois said direct visualization of the needle ensures the medicine is reaching its target versus injecting blindly.
"You can see where the needle is and where the drug is being injected, so you're close to 100 percent sure you're in the right spot," DuBois said, adding that studies have shown even well-trained doctors are apt to miss their target one-third of the time without such a guidance system.
In addition to allowing the doctor to work solo and improving patient flow, DuBois said the benefits include avoiding multiple injections due to missed targets and providing patients with cutting-edge technology.
"The patients looking at the ultrasound screen are basically distracted from the needle going in," he said. "By the time they're thinking about being injected, that's it — they're done."
Betty Stieringer, 72, is a retired registered nurse from La Mesa who has been a patient of DuBois since she injured her shoulder during a fall four years ago. After the fall, she started receiving the injections.
Stieringer said prior experience with open heart surgery prevents her from having surgery on her shoulder, and medications she takes rule out taking over-the-counter pain medications such as aspirin.
She says she's thrilled to be able to watch as the doctor guides the needle directly to the affected area.
"The one thing that I like is the reassurance that the doctor has placed it in the area he intends to, and placed it directly into the area where the tear has been," Stieringer said. The injections she gets, including in a knee, give her a quality of life she wouldn't have had otherwise.
Dr. John Reach, an assistant professor at Yale University School of Medicine, said he's found the Navigator DS to be an invaluable tool in identifying the exact anatomical location of his patients' source of pain, particularly in the foot, which has 28 bones and a joint between each of them. Using the device can make a difference in being able to perform surgery in the correct spot, he said.
"Almost all my patients get injections before surgery," he said. "As a result my success rate with surgery goes up vastly."
Reach said that in his experience, using the Navigator DS on a couple hundred patients, the device has shown to be more accurate than an X-ray in locating the pain and less expensive and more convenient than using an MRI. Other benefits of the Navigator are its ability to show the soft tissue and ligaments as well as the bone, its ability to provide a dynamic image rather than just a picture of a particular body part, and it isn't accompanied by radiation.
"This system can significantly enhance practice logistics and increase patient throughput in orthopedic and sports medicine clinics," Reach said.
DuBois says his office is an early evaluator of the Navigator DS, which is made by Carticept Medical Inc. of Alpharetta, Georgia. He says Grossmont Orthopaedic Medical Group is in negotiations to possibly purchase the device, priced between $12,000 and $17,000.
Carticept Medical CEO Tim Patrick declined to disclose sales numbers or projections, but said its target market is orthopedic and sports medicine office practices. In the U.S., 30 million orthopedic injections are given every year for relief of joint pain to alleviate achy shoulders, hips, knees and ankles, he said.
Although some clinicians use image guidance such as computed tomography and fluoroscopy to treat joint pain, Patrick said these options can expose patients to a lot of radiation. Installing fluoroscopy equipment can potentially be costly and would require shielding because of the radiation exposure, he said.
"The price and size of the equipment make it easy for someone in an office to use the ultrasound for imaging," he said.