TECHNOLOGY: RANGE OF THREATS REQUIRES EVOLVING DEFENSES
Cyber Security 'Rides Shotgun' On PCs, Networks and Nations
Monday, June 25, 2012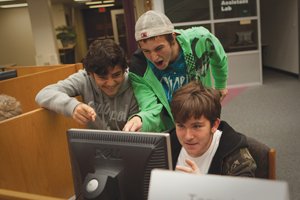 Cyber threats come in all sizes, from the personal to the national.
San Diegans try to fight both.
ESET North America, with offices in downtown San Diego, produces anti-virus and anti-malware software for the individual wanting to protect a desktop computer — or other device. "Mobile is a whole area of concern now. A smartphone is a computer," said Stephen Cobb, an ESET executive who goes by the title of "security evangelist."
At the other end of the spectrum, defense contractors such as SAIC and Kratos Defense & Security Solutions Inc. give soldiers, sailors and government officials some degree of protection while they (or their assets) operate in hostile territory.
Hostile territory could be anywhere: in orbit above the Earth, in the Persian Gulf, or on the most remote continent on the globe.
The U.S. Navy's information technology command, Spawar, is in San Diego, and it draws its share of vendors, such as Booz Allen Hamilton Inc., General Dynamics Information Technology Inc. and SAIC. Spawar is short for Space and Naval Warfare Systems Command.
Large military electronics projects, including the recent Canes computer deal, have cybersecurity components. Canes — which is short for Consolidated Afloat Networks and Enterprise Services — will upgrade computer networks aboard Navy ships. The deal began with a recently issued, $37 million delivery order. More will follow.
In Every Platform, Every Enterprise
"As the largest provider of cybersecurity solutions to the federal government, Northrop Grumman builds cybersecurity into every enterprise, every platform, and every new system and upgrade from the very beginning," said spokeswoman Sudi Bruni, who also noted that Northrop serves intelligence agencies and government offices not related to the military.
Northrop could collect hundreds of millions of dollars from Canes if the government exercises all of its options in the contract.
Northrop and SAIC, by the way, have both been active in teaching San Diego students about cybersecurity. The two big corporations have helped out at cybersecurity competitions for the next generation of white-hat hackers.
The hacking threat does not seem to be going away. News sites have fresh accounts of cyber criminals trying to steal data and trade secrets, or bring down infrastructure.
"The accumulated experience of bad guys is outpacing the adoption of secure information practices," said ESET's Cobb. ESET has 175 employees in North America and 700 worldwide. It reported $150.9 million in revenue during 2011.
Scene of the Crime
Cobb reports that FBI crime statistics have been falling, but he doesn't think that is because criminals have suddenly turned to virtue. People are simply going to the Web to commit their crimes. "You can make a lot of money with low risk of apprehension" that way, Cobb said. Tools are easily available on the black market, he added.
Symantec Corp., the company that makes Norton anti-virus software, commissioned a study in 2011 which estimated that the annual worldwide cost of cyber crime was $388 billion. The figure included monetary losses and lost time.
Bright minds at a number of San Diego institutions — Spawar, universities, and industry — are tackling the dynamic, evolving cyber threat. But in some respects, it doesn't matter where they are physically.
"Cyber is a complex warfare domain where geo-location is almost irrelevant and time is a critical factor," observed Spawar's Kevin McNally in a March interview. McNally is program manager for the Navy's Information Assurance and Cyber Security Program Office at Spawar.